Posted on
Wed, Feb 27, 2013 : 5:58 a.m.
Ann Arbor's Satchel's BBQ to join vendor lineup at Mark's Carts this year
By Lizzy Alfs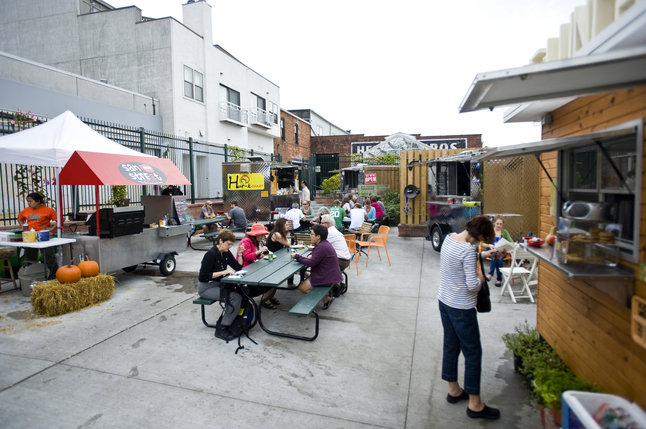 Joseph Tobianski I AnnArbor.com
Related story: New Mark's Carts food vendor El Manantial will serve authentic Mexican food
After two successful years on Washtenaw Avenue, Satchel's BBQ is bringing its smoked meats to downtown Ann Arbor.
Owner Hugh Morgan said Satchel's BBQ will be one of eight food vendors this year at Mark's Carts outdoor food courtyard off West Washington and South Ashley streets.
"We're excited about doing this," he said. "I was interested in expanding the business and especially trying to build some business in the downtown market, which is a fun place to be."
Morgan — who grew up in Alabama — opened Satchel's at 3035 Washtenaw Ave. two years ago. He said customers have responded well to the barbecue menu and the restaurant has found success in its first few years.
"People dig barbecue," he said. "I think all the reasons that I made this big leap into smoked meat, I feel as good about it now as I did two years ago when I opened the doors. I feel it's really a nice little market if you can execute on the food and the service."
Opening a food cart at Mark's Carts, he said, offered a less risky expansion option than opening a second brick-and-mortar restaurant.
"(This is) a little less risky than finding another multi-year lease," he said. "It's kind of a way for me to just see if this food works in the downtown market."
The menu at the food cart will be similar to the food at the Washtenaw Avenue restaurant. Possible offerings include a pulled pork sandwich, chicken sandwich, kielbasa and gumbo. Because it won't be possible to smoke the meats downtown, Morgan said some of the food will be prepared at the restaurant on Washtenaw Avenue and delivered to the cart each morning.
"We'll experiment," he said. "We'll try a few different things (on the menu)."
Morgan said he will hire some additional employees to staff the restaurant or the cart. He hopes to open on April 1, when the entire courtyard opens for its third season.
Returning food vendors at Mark's Carts this year include: San Street, Hut-K Chaats, A2 Pizza Pi, Beet Box and Cheese Dream. El Manantial and Satchel's BBQ will be new to the courtyard.
Lizzy Alfs is a business reporter for AnnArbor.com. Reach her at 734-623-2584 or email her at lizzyalfs@annarbor.com. Follow her on Twitter at http://twitter.com/lizzyalfs.