Posted on
Thu, Jan 12, 2012 : 2:21 p.m.
Sole Sisters shop in downtown Ann Arbor to shut down
By Lizzy Alfs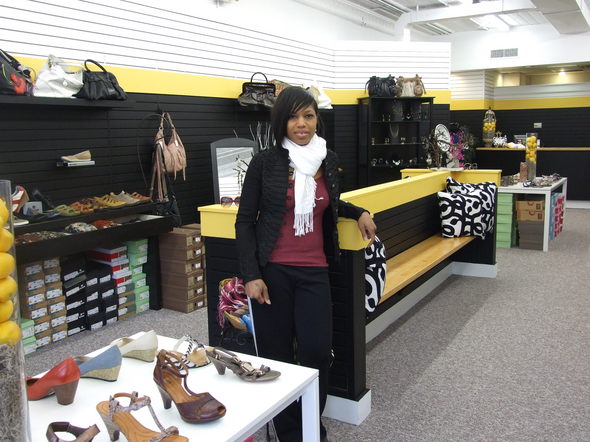 Erica Hobbs | AnnArbor.com
Tamar Fowler
, owner of downtown Ann Arbor's
Sole Sisters
boutique, announced that she plans to close the shop at 209 E. Liberty St. by the end of the month.
Fowler first opened Sole Sisters — an independently owned boutique with other locations in Metro Detroit — on South Fourth Avenue in July 2008. The store offers shoes, accessories, handbags and some clothing.
Since moving around the corner to East Liberty in March 2010, Fowler said business briefly picked up, but started slowing down around springtime.
A combination of decreased foot traffic, the unstable economy, parking difficulties and other personal reasons triggered Fowler's decision to close.
"Of course, I think the economy had a huge impact on everyone's sales," she said. "In the last couple months, sales have definitely decreased. A lot of stores in the area have closed and we got less foot traffic."
She added: "There's also the hassle of parking and people afraid to get a ticket. It's hard when you can just go to the mall and park for free and you're enclosed, so no matter what the weather is, you're comfortable."
One of her concerns with the downtown area, she said, is the ratio of restaurants to retailers.
"Even though retail sales are soft, it seems like the restaurants are still steady," she said. "I don't know if it's because people have to eat so they support the restaurants - and we do have a lot of great restaurants - but sometimes I feel like [Ann Arbor] is flooded with them and not so much retail stores."
Fowler said she had a lot of loyal customers throughout the years, and noticed people appreciated Sole Sisters' "moderate" price range. Shoes were typically priced between $45 and $160.
One of her biggest difficulties, she said, was targeting a broad demographic.
Two additional employees will continue to work at the store until it closes at the end of the month. Everything in the boutique is currently 30 percent off, and Fowler plans to increase the sales in the next two weeks.
She also plans to launch a new website to sell shoes, accessories and handbags in the next few months. She said she'd consider opening up another brick-and-mortar store somewhere down the line.
Michael Yi, owner of the East Liberty Street building, said a listing for the nearly 1,200-square-foot space went up yesterday with Dan Stewart of Sperry Van Ness/Stewart Commercial Group.
Yi said despite Sole Sisters' struggles, he thinks demand for a retail space in that area is still fairly strong.
"I think the location is great, although retail sales countrywide are soft," he said. "With the new bus terminal expanding and a new parking structure, all those things are supportive for the area so I think it has a bright future."
He said he would consider a food or retail user for the space.
Sole Sisters' closing is among several recent changes on East Liberty Street in downtown Ann Arbor. Among them:
--Poshh boutique closed at 535 E. Liberty St. and a frozen yogurt shop announced plans to move into the space.
--Grand Traverse Pie Co. plans to open in a few months in the former @burger space at 505 E. Liberty St.
--This & That at 611 E. Liberty St. closed and was replaced by a Zaragon West leasing center.
Lizzy Alfs is a business reporter for AnnArbor.com. Reach her at 734-623-2584 or email her at lizzyalfs@annarbor.com. Follow her on Twitter at http://twitter.com/lizzyalfs.