Posted on
Thu, Apr 1, 2010 : 5:50 a.m.
Apple iPad launch offers revenue opportunities for Ann Arbor software developers, entrepreneurs
By Nathan Bomey
The Apple iPad won't be released until Saturday, but that hasn't stopped Ann Arbor software developers and enterprising consumers from devising strategies for capitalizing on the buzz surrounding the tablet computer.
At least one Ann Arbor company, mobile software firm Mobiata, plans to introduce an application designed specifically for iPad users. Other companies said they plan to develop apps after getting a feel for how the iPad is used.
Meanwhile, a few Apple enthusiasts have identified an opportunity to make a quick buck.
University of Michigan student Dallas Reeves pre-ordered a $499, 16-gigabyte iPad for himself - and placed two on reserve with the Apple Store at Briarwood. He's trying to sell those two iPads on Craiglist.org for $700 apiece - one of several people aiming to do the same.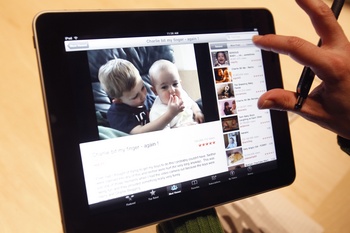 Photo by Associated Press
Reeves tried the same strategy in 2007 when Apple released the iPhone, with little success.

"I just think it's different than the iPhone," Reeves said. "There's just such a wide audience for it."
That audience extends to the region's emerging mobile software industry, which is mobilizing to develop apps for the 1.5-pound iPad, whose 9.7-inch-long screen triples the screen-size of the iPhone.
Mobiata's Jason Bornhorst, also a founder of Ann Arbor-based iPhone app firm Mobil33t, said he believes the iPad would fill a market niche between smart phones and laptop computers.
"The iPad is going to be all about consuming content," Bornhorst said. "It's a completely new paradigm in computing, so I'm going to make a bet that most of the application developers out there probably won't get it right the first time around. It's going to take some time to understand how people are using the device and how to leverage that."
Mobiata, however, has been working feverishly to release an app this weekend, when Apple first allows developers to sell apps through its iTunes Store.
Apple iPad facts
9.7 inches long, 1/2-inch thick
Weighs 1.5 pounds
All versions can use wireless Internet for free.
Other versions use 3G connections. No contract required. $15 per month for up to 250 MB in data. $30 a month for unlimited data.

WiFi-only versions (available Saturday) cost $499 (16 GB), $599 (32 GB), $699 (64 GB); available Saturday.
Versions with WiFi and 3G capability (available in a month) cost $629 (16 GB), $729 (32 GB), $829 (64 GB).

Features e-reader capability with color photos and video.
Will include Apple's new iBook Store, where users can purchase e-books.
Other companies, including Amazon and Borders, will offer applications through which users can download books on the iPad.
10 hours of battery lifespan.
Runs almost all applications that run on the iPhone or iPod Touch.

Apple has sold $3 billion in apps, giving 70 percent of the revenue to private developers like Mobiata. Apple barred developers from discussing their iPad apps until the device is released, so Mobiata wouldn't provide specifics about its plans.
Mobiata's iPhone travel applications - including its top-selling FlightTrack app - topped $1 million in sales in 2009.
Virtually all apps sold for the iPhone and iPod Touch will work on the iPad - which means additional revenue for companies that already have apps on the market.
It's not all about revenue, though.
Ann Arbor-based health coaching software firm HealthMedia on Tuesday released a free app to consumers who use HealthMedia's digital health coaching to track their physical activity, health statistics and emotional well being. It won't lead directly to revenue, but the app, which will be available on the iPad, could boost the Johnson & Johnson subsidiary's visibility among consumers.
But most developers agree that the iPad's larger screen size favors more complex apps with improved design and usability.
"The iPhone's great - you can carry it in your pocket, you can do a lot with it," said Derek Mehraban, CEO of Ann Arbor-based Ingenex Digital Marketing. "But the iPad is a much more pleasant experience as far as being able to interact, typing up an e-mail. Watching movies or videos is going to be much more pleasant on that larger screen. It's the size. Size matters, I believe."
Still, some observers are voicing skepticism. Does the iPad deserve the hype?
Manufacturing a new segment in the digital marketplace is challenging. Computer companies like Hewlett Packard have been trying to market tablet computers for years.
Bruce Richardson, chief operating officer of Ann Arbor-based consultancy Logic Solutions, said his clients have not been actively requesting iPad apps.
Where you can get an iPad
The Apple Store at Briarwood Mall. Briarwood, which opens at 8 a.m. Saturday, expects a big crowd of people to line up early Saturday morning. The Apple Store plans to open at 9 a.m., although that time could change.

The Best Buy store on Lohr Road plans to open at 10 a.m., but it will reportedly have only 15 iPads. Get there early.
Pre-order it at Apple.com, which won't ship new orders until April 12.
"It's going to take some time for that to catch on," he said. "Today I'm not seeing any demand whatsoever."
But Richardson said he expects the device to catch on as a tool for businesses in their day-to-day operations - although it will need to integrate multitasking capabilities. Hospitals, for example, could be a destination for the device, he said.
"If I'm a physician and I don't want to carry around a laptop, but I have something that weighs one pound or less, I can have all my hospital applications on it instead of charting on a piece of paper or taking notes and going to another workstation to chart," Richardson said.
Meanwhile, simple curiosity about the iPad seems to be building.
Bruce McCully, founder of Ann Arbor-based information technology services firm Dynamic Edge, said his company pre-ordered an iPad. And some of Dynamic Edge's customers have placed orders, too.
McCully said it's important for Dynamic Edge to understand how the iPad could affect its clients. One pitfall he can already see: The iPad uses Apple's Safari Web browser, which may equal headaches for companies whose Web sites work best with Microsoft's Internet Explorer.
"They're going to have to be really careful about the Internet Explorer issue," McCully said.
Contact AnnArbor.com's Nathan Bomey at (734) 623-2587 or nathanbomey@annarbor.com or follow him on Twitter. You can also subscribe to AnnArbor.com Business Review's weekly e-newsletter or the upcoming breaking business news e-newsletter.