Posted on
Wed, Jan 27, 2010 : 4:05 p.m.
Apple's iPad opens door for Ann Arbor software developers
By Nathan Bomey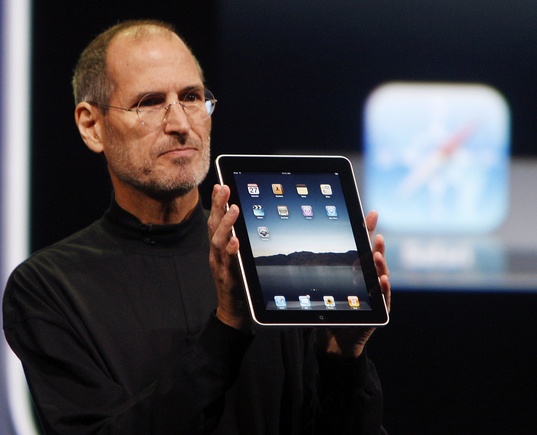 AP Photo by Paul Chinn | San Francisco Chronicle
Apple's iPad -- the long-awaited digital tablet device revealed this afternoon -- is likely to set off a mad rush among software developers in the Ann Arbor region to create applications for the new device.
The first bit of good news for local application developers: Virtually all apps sold through the existing App Store for use on the iPhone and iPod Touch will work on the iPad, a 9.7-inch-long, 1/2-inch-thick, 1.5-pound device.
But the larger screen size means that apps may have to be more complex to entice iPad users.

Details about Apple's iPad

9.7 inches long, 1/2-inch thick
Weighs 1.5 pounds
All versions can use wireless Internet for free.

Other versions use 3G connections. No contract required. $15 per month for up to 250 MB in data. $30 a month for unlimited data.
WiFi-only versions cost $499 (16 GB), $599 (32 GB), $699 (64 GB); Versions with WiFi and 3G capability cost $629 (16 GB), $729 (32 GB), $829 (64 GB).

Features e-reader capability with color photos and video.
Will include new iBook Store, where users can purchase e-books.
10 hours of battery lifespan.
Runs almost all applications that run on the iPhone or iPod Touch.
Available in 60 days (Wi-Fi only version) to 90 days (versions with 3G capability and WiFi)

Apple has sold more than 3 billion applications for the iPhone and iPod Touch, harvesting 30 percent of the revenue and giving 70 percent to the private developers.
That revenue-sharing model stays in place for iPad.

That means more sales opportunities for firms like Ann Arbor-based mobile software developer Mobiata, which topped $1 million in iPhone app sales in 2009 for its travel applications.
But the long-term implication is that software developers will immediately start scrambling to produce applications that appeal to iPad users.

People who pay for the iPad -- which will cost anywhere from $499 to $829, depending on the version -- will surely expect richer, more complex applications.
"There's so much more you can do with the (user interface) that it's going to be a big task" to develop marketable apps, said ex-Apple intern Ben Kazez, founder of Mobiata, in an interview Tuesday.

For iPhone apps, software developers can produce a feasible application in a matter of weeks. For the iPad, however, it might take months to develop apps that display sales durability. Longer development cycles favor established corporations with significant muscle power in research and development.

Players like EA Sports and the New York Times have already developed apps for the iPad, for example.

Still, established app developers like Mobiata and Ann Arbor-based Mobatech have an edge on new players in the market.

With more than 140,000 applications for sale in the App Store already, it's hard to stand out.
But companies like Mobiata -- whose apps Apple has featured in commercials and print advertisements -- have an distinct advantage due to their direct connections to Apple's marketing team.
"It can be really difficult to get noticed and having the tablet out there will increase that market but not necessarily make it much easier to get noticed," Kazez said.
Meanwhile, struggling Ann Arbor-based book store chain Borders Group Inc. can breathe a sign of relief that Apple apparently does not have a deal with rival Barnes & Noble to sell B&N digital books through the iPad.

The iPad's e-reader capabilities represent Apple's effort to overtake Amazon.com and Barnes & Noble as the leader in the e-reader market.

Disappointed investors pushed Barnes & Noble's stock price down more than 8 percent after the Apple announcement.
For its part, Borders plans to sell digital books through a new application under development by Toronto-based Kobo Inc., a division of Indigo Books & Music.

Borders has said that application will be available on the iPhone -- so, by extension, it's likely to be available on the iPad as well.

More coverage from other news sources:
New York Times: Apple reveals the iPad tablet
Wall Street Journal: Apple introduces highly-anticipated tablet
CNET: Apple's iPad: What you need to know
Huffington Post: Steve Jobs and iPad Apple tablet: It's the content, stupid
Los Angeles Times: Is this the publishing industry's savior?

Globe and Mail: Investors like Apple's pricing
PC World: No second coming: iPad just a big iPod Touch

Contact AnnArbor.com's Nathan Bomey at (734) 623-2587 or nathanbomey@annarbor.com. You can also follow him on Twitter.