Posted on
Wed, Aug 28, 2013 : 11:45 a.m.
Are P.F. Chang's and Bravo restaurant chains coming to Briarwood Mall?
By Lizzy Alfs

Elevation by Aria Group Architects. Inc
Could
P.F. Chang's China Bistro
and
Bravo Cucina Italiana
become the next national restaurant chains to enter the Ann Arbor dining scene?
Briarwood Mall owner Simon Property Group submitted plans to the city of Ann Arbor this week to construct two restaurant buildings on the parking lot just east of the Macy's department store.
Although Briarwood officials said there is no official announcement regarding the restaurant tenants yet, the plans include building elevations for P.F. Chang's China Bistro and Bravo Cucina Italiana — two national restaurant chains that don't have existing locations in Washtenaw County.

RSA Architects LLC
"The leases are not fully executed, and thus we don't release this information," said Denise Murray, Briarwood Mall's director of marketing and business development, via email. "We would like city approval and be able to release information once the deals are finalized."
Based in Arizona, P.F. Chang's China Bistro was founded in 1993 and now operates more than 200 locations. The restaurants are typically built with a pair of 11-foot-tall horses near the entrance. Its menu combines influences of Chinese and American cultures, according to its website. There are nearby locations in Northville Township, Dearborn and Troy.
Bravo Cucinia Italiana is part of the Bravo Brio Restaurant Group, which operates Bravo, Brio Tuscan Grille and Bon Vie Bistro. The "upscale affordable" Bravo restaurants serve Italian food in a Roman-ruin decor, its website says. There is a Bravo restaurant in Livonia.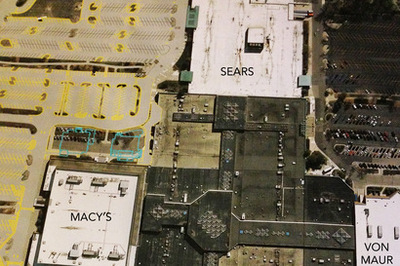 Simon Property Group
Media representatives for both restaurant chains did not return requests for comment.
In the Briarwood plans submitted to the city, a representative for Simon Property Group wrote that the project would be advantageous to the city of Ann Arbor because it will "improve an existing development" and maintain the mall's viability.
The 40-year-old mall, located at the corner of Interstate 94 and South State Street, is Washtenaw County's largest shopping center and the city of Ann Arbor's biggest taxpayer. Briarwood is anchored by Macy's, Sears, JCPenney and Von Maur. The mall is undergoing a series of renovations, including energy efficiency upgrades and new entrances with automatic entry doors
Earlier this month, mall officials hosted a citizen participation meeting for its plans to build two side-by-side restaurant buildings on a portion of the mall's parking lot, separated from Macy's by about 10 feet on the east side of the store.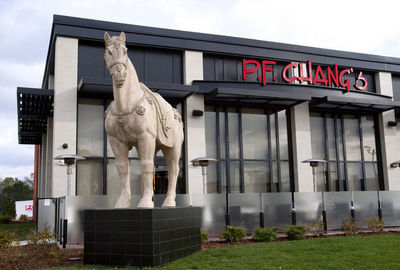 MLive.com
The site plan submitted to the city this week shows one restaurant would be 6,470 square feet and the other restaurant would be 7,068 square feet. Both restaurants would have outdoor dining areas.
The estimated cost of construction listed in the plans is $1,577,094.
The project requires that Simon Property Group purchase a portion of the lot from Macy's, and the company is requesting a land division and rezoning from P (parking) to C2B (business district). About 13,500 square feet of the parking lot would be rezoned.
In addition to the restaurant construction, parking in that area would be reconfigured to face the restaurant buildings and utilities would need to be relocated. Landscape islands and LED lighting would be installed, along with new pedestrian walkways. Macy's also plans to reorganize some of its parking and pedestrian walkways.
Hubbell, Roth & Clark's Gary Tressel, a consulting engineer for the project, told attendees at the citizen participation meeting that there would be designated parking outside the restaurants for carryout orders, along with handicapped-accessible parking spaces close to the restaurant entrances.
If the project is approved, Simon Property Group hopes to begin preliminary site work in the fall. The restaurants have a tentative opening date of November 2014, Tressel said.
Briarwood's proposal comes one month after Carrabba's Italian Grill and LongHorn Steakhouse signed deals to open restaurants on Ann Arbor-Saline Road, about 1.5 miles west of Briarwood.
Lizzy Alfs is a business reporter for AnnArbor.com. Reach her at 734-623-2584 or email her at lizzyalfs@annarbor.com. Follow her on Twitter at http://twitter.com/lizzyalfs.