Posted on
Tue, Mar 5, 2013 : 10:35 a.m.
Briarwood Mall unveils major renovation plan: 'We want to improve the look'
By Lizzy Alfs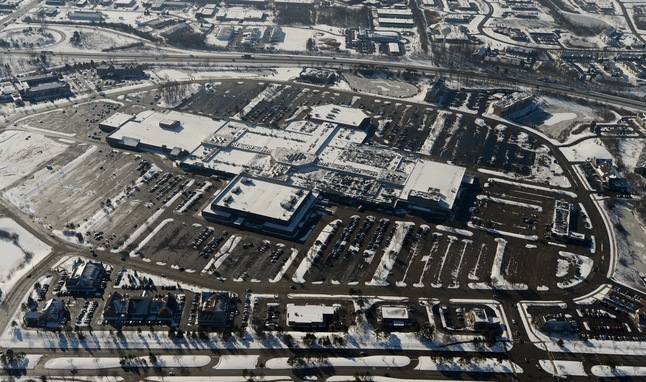 Melanie Maxwell | AnnArbor.com
Briarwood Mall,
Washtenaw County's largest shopping center, will undergo a major renovation project this year that mall representatives say will improve the shopping experience for customers.
"While we've aged gracefully and we've been a place for our shoppers to come and hang out, to dine, to shop, we want to improve the look," said Briarwood Mall manager Ida Hendrix. "We appreciate the loyalty from this community. Our shopping center continues to thrive with your support and we want to make this place an even better venue for you to enjoy."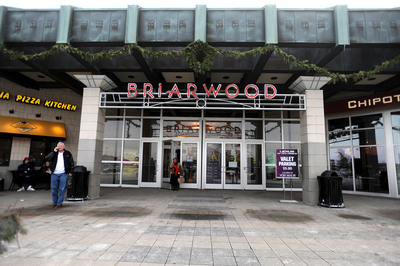 AnnArbor.com file photo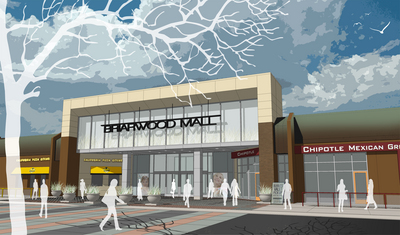 Courtesy photo
Mall representatives announced the plans at a press conference on Tuesday morning, which was also attended by Mayor John Hieftje, Washtenaw County Commissioner Yousef Rabhi, and A2Y Chamber CEO Diane Keller.
Plans include:
New signage and landscaping
New entrances with automatic entry doors
Energy efficiency upgrades, including LED lighting
Fresh paint and improved flooring
Renovated restrooms and corridors
Revamped children's play area in the Von Maur wing
Additional seating in center court with Wi-Fi and lounge-style furniture
Overhead architectural changes
At more than 1 million square feet, the 40-year-old mall owned by Simon Property Group is the city of Ann Arbor's biggest taxpayer. It's located at the corner of Interstate 94 and South State Street and anchored by JCPenney, Macy's, Sears and Von Maur. The last time the mall was renovated was a decade ago.
The mall's taxable value has fallen by approximately $6 million since its $43.8 million assessment in 2010.
The most important piece of the project, said Denise Murray, the mall's director of marketing and business development, is that the renovations will be completed with a "green focus." The interior and exterior lighting will be upgraded to energy efficient fixtures.
"The most important part of this piece is that it's going to save us power," Murray said.
"The values of this community and the values of Simon have aligned and it's really great to be able to serve a community like this and have the opportunity to be a leader in this direction," she continued.
Hieftje and Rabhi both thanked Simon Property Group for making the investment in energy upgrades. Hieftje said the project coincides with the city's sustainability goals.
"As we look at development like this, it's just spectacular that they are taking on the best in light technology, that they're going to take a big bite out of carbon production," Hieftje said.
In recent months, a series of luxury brand stores have announced plans to open in the mall, including Michael Kors, Vera Bradley and Soma Intimates. Murray called the newcomers "fabulous national retailers" and said Briarwood will continue to grow, expand and improve its customer experience and tenant selection.
Hendrix told AnnArbor.com that the mall's rental rates should not be impacted by the renovation and called it a "win-win" for tenants. She expects the renovations will increase the mall's foot traffic and create a buzz among shoppers.
Phil Kajca, owner of the Pandora Jewelry franchise in the mall, said he's looking forward to the upgrades. The experience at Briarwood, he said, hasn't always matched the community of Ann Arbor and its thriving downtown.
Hendrix said there are no immediate plans to remove the kiosks in the center aisles of the mall, but they are continually evaluating the mall's layout. She also called the kiosks a great opportunity for business owners to try out new concepts.
As for parking lot improvements or outlot redevelopment opportunities, Murray and Hendrix said there is nothing to announce at this time.
"We continue to explore opportunities," Hendrix said.
Mall representatives declined to reveal the cost of the renovations, which will start on Thursday, March 7. Hendrix said the project could be completed at the end of October and the mall will remain open during that period.
The Briarwood renovation news comes as another large retail center is being constructed on Washtenaw Avenue in Ann Arbor. The 100,000-square-foot Arbor Hills is expected to bring more than 20 retail shops and three restaurants — including Cafe Zola and Pizzeria Biga — to the Washtenaw corridor when it opens in August.
"We certainly pay attention to our competition and we do consider them competition, but this (renovation plan) has been in the works for about 2.5 years now," Murray said. "It will bring more people to Ann Arbor."
For Briarwood Mall renovation updates, shoppers can text Reno15 to 74666 or check the mall's Facebook page.
AnnArbor.com reporter Ben Freed contributed to this report.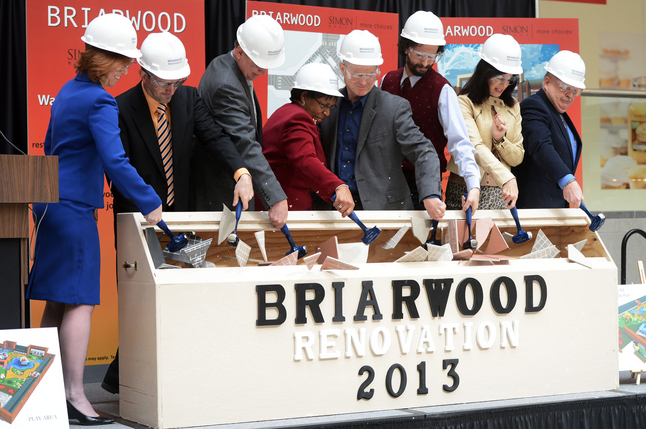 Melanie Maxwell | AnnArbor.com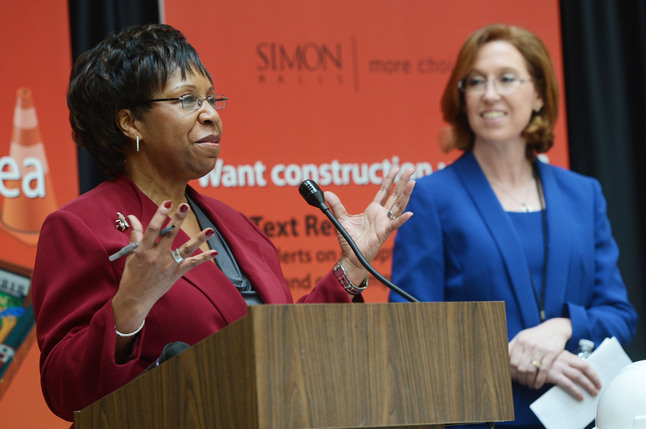 Melanie Maxwell | AnnArbor.com
Lizzy Alfs is a business reporter for AnnArbor.com. Reach her at 734-623-2584 or email her at lizzyalfs@annarbor.com. Follow her on Twitter at http://twitter.com/lizzyalfs.