Posted on
Thu, Mar 21, 2013 : 5:58 a.m.
Arhaus furniture to move from Arborland
By Lizzy Alfs
Melanie Maxwell | AnnArbor.com
Ann Arbor's
Arhaus
furniture design center will be completely revamped this year in a move from
Arborland Center
.
Its new home in Ann Arbor will be the under-construction Arbor Hills on Washtenaw Avenue.
The move, said Arhaus Chief Operating Officer Greg Teed, will give the store increased visibility, and a chance to redesign the store and join a group of high-end tenants in the new center.
"We've been in Ann Arbor for about 10 years and we have a great store there. We've had a great presence," Teed said.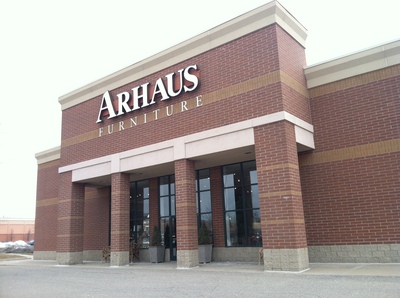 "Our company (has been) moving forward in the last three, four, five years in a more upscale direction. A lot of the stores we've been building out over the past few years have very cool architectural elements to it," he continued.
The architecture at the 100,000-square-foot Arbor Hills development fits well with that vision, he said.
The news comes days after specialty cookware retailer Sur La Table and yoga-inspired clothing store lululemon athletica announced plans to open at Arbor Hills, which is located between Huron Parkway and Platt Road. Other confirmed tenants include a restaurant by the Cafe Zola owners, Pizzeria Biga and Hot Mama women's boutique.
Construction started on the center in June, and developers have been marketing it as an upscale development in a highly visible location.
"We really like the tenants that they're bringing in," Teed said. "Those are our type of customers."
Because several of the buildings have direct frontage off Washtenaw, Teed hopes to attract new customers through drive-by traffic and nearby shopping centers.
"We're going to be right there, front and center, so the customers can see," he said.
The new store will be slightly smaller than the store in Arborland, but it will have two levels. Teed said there won't be any changes in employment, and the Arborland store will close when the Arbor Hills store opens in September.
The roughly 14,400-square-foot Arborland space is being marketed for lease with Michael Lippitt and Rick Shlom of Landmark Commercial Real Estate.
Founded in 1986, there are now 45 Arhaus locations in the U.S., including one in Somerset Mall in Troy. The company sells home furniture and accessories, sourcing from artisans around the world. Teed said the company continues to look at different markets for new stores.
Lizzy Alfs is a business reporter for AnnArbor.com. Reach her at 734-623-2584 or email her at lizzyalfs@annarbor.com. Follow her on Twitter at http://twitter.com/lizzyalfs.