Posted on
Tue, Jun 28, 2011 : 5:58 a.m.
Aubree's franchise plans to hire 78 workers as Dexter restaurant renovations continue
By Laura Blodgett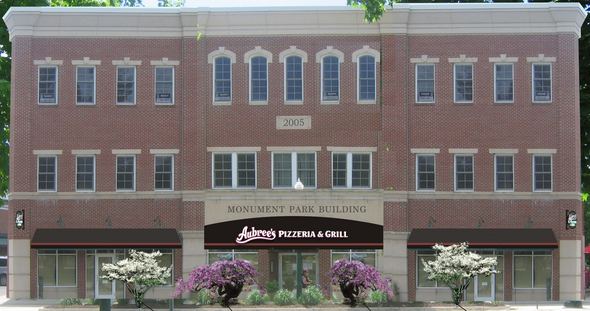 Photo courtesy of Aubree's
Aubree's Pizzeria & Tavern
hopes to open its new Dexter location by mid-summer and plans to host a job fair to hire new workers sometime after July 4.
The franchised restaurant, which has already started renovations, is taking over the former North Point Seafood & Steak House space at 8031 N. Main in Dexter.
Co-owned by Pinckney resident Amy Bulszewicz and Ron Evangelista, who formerly worked together in the construction industry, the new restaurant came together quickly when North Point closed suddenly in February.
The owners said they plan to hire about 78 people workers to staff the restaurant and that hiring should begin within a few weeks.
The Dexter franchise is an outgrowth of an idea cultivated by Aubree's owner Bill French and Andy French, his son, who are developing plans for several new locations.
"I developed a strong relationship with the French family when I did the renovation on the Aubree's in Northville for them," said Evangelista, who served as project manager at that location. "Bill French asked me if I might be interested in assembling a team to start opening these restaurants."
They started looking at the demographic for areas that had higher-end restaurants that had failed. When North Point left and the space became available, the team moved quickly to secure the location.
"It was the right opportunity at the right time," said Evangelista. "We felt Aubree's could do very well in the Dexter area."
The Aubree's concept offers something for everyone, says Bulszewicz.
"I love to cook so I know what goes into pulling off flavor and quality and they had me from the first bite of everything," Bulszewicz said. "Dexter is such a family community, so we thought between the pizza for kids or sports teams and the nicer pasta dishes and entrees for adults, there is enough variety for everybody."
Bulszewicz said that though North Point was a wonderful restaurant, it might have been a little out of the typical price range for the lunch crowd and families.
"North Point might have been more special occasion. With a more moderate price point, you can fit Aubree's into the budget," Bulszewicz said.
This location will be the first franchised locations for Aubree's. The Frenchs' partnership, called Dexter Capital LLC, is leasing the space from A.R. Brouwer of Dexter, which owns the building.
One unexpected disruption occurred last week when representatives from the International Brotherhood of Electrical Workers Local 252 picketed outside the building to protest that Evangelista had hired contractors from outside the area, including J.B. Electric from Sterling Heights, to do the renovation work on the restaurant. "The owner of the restaurant is a general contractor from Detroit and he has brought in his own contractors to do various work from the trades," said union spokesperson Jim Burns, who organized the protest. "What it really comes down to is that we are being undercut by contractors who come into this area, don't pay local taxes, don't support our apprenticeship program, and the money earned by these workers gets taken to their home communities to be spent on infrastructure and schools there."
For his part, Evangelista said they did obtain bids from two local union electrical companies but their estimates came in too high for their budget.
"They were so far out of the ballpark that we couldn't afford it," said Evangelista, who says they were 25 percent and 100 percent higher. "I practice fair bidding and we gave everyone a fair opportunity. We are making every effort possible to integrate local people, but there is a budget."
Other than J.B Electric in Sterling Heights and a plumber from the Brighton/Howell area, every contractor is local, said Evangelista. Dexter contractors include Doors & Drawers for millwork, PPR Solutions for flooring and Wolverine Moore Glass. In addition, work is being done by a local Dexter resident who is a stainless steel contractor and the reps from Miller Brewing and Gordon Foodservice both live in Dexter.
Ann Arbor companies involved in the project include Fuller Heating and Cooling and Metro Group Architects.
"Their signs — honk if you support hiring local people — are grossly misrepresenting the situation, "said Evangelista.
Upgrades include a reconfigured U-shaped bar, a new pizza-and-salad bar and additional seating. Nearly 20 flat-screen TVs will be added to the dining room and bar, including within individual booths.
In addition to indoor and outdoor seating, the restaurant will also have delivery and carryout.
The restaurant should be open at the end of July, with a grand opening tentatively planned during the Dexter Daze event in August.
Aubree's Pizzeria & Grill was approved by the state of Michigan to begin franchising in March 2011 with the goal of opening several regional locations by year-end. The French family is currently exploring possible options in the Kalamazoo area.
Laura Blodgett is a freelance reporter.