Posted on
Fri, Sep 9, 2011 : 1:05 p.m.
Auto safety research quietly becoming big business for Ann Arbor region
By Nathan Bomey
Angela J. Cesere | AnnArbor.com
The Ann Arbor region — which has long been a key source of research and development for the auto industry — is quietly becoming an epicenter of future
auto safety technology research
.
The federal government last month signed a $14.9 million contract with the University of Michigan's Transportation Research Institute, which will recruit 3,000 local drivers to study the performance and necessity of technology that helps cars communicate with each other.
The institute plans to hire up to 30 new workers to staff the 30-month project, including research scientists, software engineers and technology installation workers.
The U-M project comes after the Toyota Technical Center announced in January that it would invest $50 million over five years to establish a new Collaborative Safety Research Center based at the center's sprawling York Township campus.
Toyota is set to host a high-profile auto safety seminar Sept. 13-14 to discuss its safety efforts.
After Toyota recalled millions of cars in 2010 due to reports of unintended acceleration, the automaker apologized to the public and made the local safety center a centerpiece in a campaign to restore its reputation for producing safe vehicles.
The new safety research center has only 10 employees, but they're collaborating with a collection of universities and outside researchers on various safety issues.
"A lot of the safety technology that we research here can be applied to our vehicle development," said Bruce Brownlee, senior administrator of external affairs for the Toyota Technical Center, which has more than 1,000 employees in York Township and Ann Arbor Township.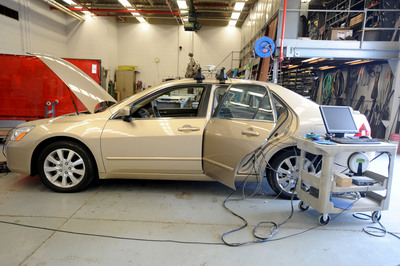 Angela J. Cesere | AnnArbor.com
At the U-M Transportation Research Institute, researchers are gearing up to implement new GPS-based devices in the vehicles of 3,000 volunteers in early 2012. Equipment will be set up on road signs along three corridors in northeast Ann Arbor to communicate with the vehicles: Plymouth Road, Geddes-Fuller and part of Washtenaw Avenue.
Jim Sayer, program manager and associate research scientist at UMTRI, said 400 of the cars will have equipment that can warn drivers of a pending crash.
The U.S. Department of Transportation's National Highway Traffic Safety Administration plans to analyze the results of the UMTRI study to decide whether automakers should be required to build cars with technology that allows them to communicate with each other while on the road.
Sayer said the Transportation Department's data indicates that 80 percent of crashes could be avoided using vehicle-to-vehicle communication.
For example, cars can be warned of pending rear-end collisions or a nearby driver poised to run a red light.
Automakers will be able to pay to connect their technology into U-M's "connected vehicle" network to test their communications systems.
"Having the test-bed here and conducting the model deployment here in Ann Arbor is really setting up the city of Ann Arbor to be the hub for all future connected vehicle safety research," Sayer said.
"This will be the location in North America, we expect, where car manufacturers, suppliers — and anybody that wants to develop applications, certain software companies — would want to come to test their products."
David Cole, chairman emeritus of the Ann Arbor-based Center for Automotive Research, said technology that allows cars to communicate with each other is the next evolution in auto safety. Recent safety improvements include adaptive cruise control, blind-spot warning systems and rear-end cameras.
"In a sense, the revolution has already started," Cole said.
Cole said it makes sense that Ann Arbor is developing a critical mass of auto safety research operation, in part because Michigan's auto industry has some 350 technical facilities. About 70 percent of the auto industry's R&D takes place in Michigan.
"It is the intellectual center of gravity for the automotive industry in this country, and it is one of the key centers in the entire world," Cole said.
There are other reasons this region is a good place to do auto safety research, Sayer said: It has four seasons and high traffic volumes.
"This (contract) just cements our place relative to the future of automotive safety technology," he said.
At Toyota's new research center, researchers are focused on several areas of auto safety, including driver distraction, teen drivers and older drivers.
Of course, the Toyota Technical Center is already conducting safety research at its indoor crash test facility. Software programs help engineers conduct crash modeling, design various scenarios and analyze data from actual crash tests.
"We can test a lot of different situations," Brownlee said.
Contact AnnArbor.com's Nathan Bomey at (734) 623-2587 or nathanbomey@annarbor.com. You can also follow him on Twitter or subscribe to AnnArbor.com's newsletters.