Posted on
Tue, Nov 10, 2009 : 2:40 p.m.
Battery expert Ann Marie Sastry graces "Inc." magazine's November cover
By Nathan Bomey
University of Michigan engineering professor Ann Marie Sastry, a global battery expert and CEO of Ann Arbor-based Sakti3, is featured on the cover of November's "Inc." magazine.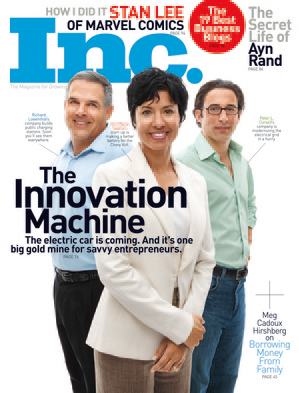 Photo courtesy of Inc. magazine
The New York-based publication, which focuses on hot companies and emerging technologies, highlighted electric vehicles in its November cover story. 
Sastry is pictured on the cover alongside two startup energy technology executives - California-based Coulomb Technologies CEO Richard Lowenthal and Virginia-based GridPoint CEO Peter Corsell.
Sastry is a major proponent of the need to invest in alternative propulsion technologies and educational programs. She also leads U-M's energy systems master's engineering program.
"It's great that people are starting to recognize that the way to get durable change and clean energy is to create wealth by making products that are profitable," Sastry said this morning. "The 'Inc.' story is an example of that - the awareness that new businesses have to crop up and execute these technologies in a way to get them profitable."
Sakti3 on Friday received AnnArbor.com Business Review's "Deal of the Year" in the "Research" category for striking a technology partnership with General Motors and raising $5 million in private capital.
Engineers from Sakti3 and GM are working side-by-side on lithium-ion battery technologies of the future. An excerpt from the "Inc." story:
"Gen-1 technologies have sufficiently high rates of discharge, very suitable for getting us over the tipping point, you know, where a reasonable part of the vehicle portfolio goes electric," Sastry tells (Inc.). "But liquid electrolytes present integration limits -- also limits on energy density. We think that disruptive manufacturing techniques can improve performance dramatically, as in the chip industry." Does this not ultimately mean very costly fabrication facilities, as with chips? "We aim to create a cheap, scalable process. But government support and appropriate regulation may be needed for other elements of electrification -- and that's justified. Think of what we spend to secure oil. Think of the livability of cities and the dangers of climate change. But the changes have to be reinforced by companies making a profit."
Inc. reported paid circulation of more than 724,000 in the first half of 2008, according to the a University of North Carolina journalism blog.

Contact AnnArbor.com's Nathan Bomey at (734) 623-2587 or nathanbomey@annarbor.com. You can also follow him on Twitter.