Posted on
Mon, Oct 17, 2011 : 1:21 p.m.
Bill Ford: Michigan must eliminate personal property tax, build new bridge to Canada
By Nathan Bomey
Ford Motor Co. Executive Chairman Bill Ford Jr. today endorsed the elimination of Michigan's personal property tax and urged the Michigan Legislature to authorize the construction of a new bridge connecting Detroit and Windsor.
Ford, speaking this afternoon at the Washtenaw Economic Club at Washtenaw Community College, outlined his support for the elimination of the personal property tax, which taxes companies' equipment and hits manufacturing companies particularly hard.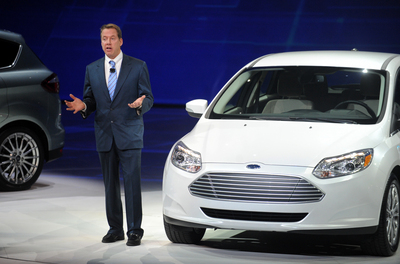 File photo | AnnArbor.com
He said Michigan is at a "competitive disadvantage" to other Midwestern states because of the personal property tax.
"These are taxes that we pay on machinery or equipment," he said. "Michigan's reliance on this property tax places an additional burden on anybody who's thinking about investing in this state."
His statement comes as Gov. Rick Snyder and the Michigan Legislature are in the early stages of considering how to change or eliminate the personal property tax — and how to replace the revenue, which is a large part of most municipalities' budgets.
On Friday, the Ann Arbor area's state representatives and senators — three Republicans and three Democrats — agreed that the personal property tax needs to go. But they all want to replace the lost taxes with another revenue source.
Ford also called on the Michigan Legislature to authorize a public-private partnership that would build a new bridge over the Detroit River, in part by using $550 million from Canada.
All the major U.S. automakers have endorsed the new bridge, which is supported by Snyder and most Democrats but has been blocked by legislative Republicans who question whether the bridge will be economically viable.
The bridge proposal has also faced fierce opposition from the Ambassador Bridge owners, who have fought the bridge with a multi-million advertising campaign.
Both sides have debated whether additional capacity is needed over the Detroit River. Supporters say many Michigan companies would benefit economically by additional capacity over the river. Opponents, including the Ambassador Bridge owners, say traffic is down and a new government-owned bridge is not needed.
Ford said the Dearborn-based automaker sends about 600 trucks across the U.S.-Canada border every day.
The Ambassador Bridge is "becoming capacity strained, which is costing our region money and, ultimately, jobs," Ford said.
"We're hopeful that the Legislature will act decisively to create a new border crossing," he said. "To compete as a world-class community, we also need world-class infrastructure."
Ford, who became the first major business leader to endorse Snyder during the Ann Arbor venture capitalist's 2010 gubernatorial campaign, also offered a brief critique of a tax-credit-free tax policy.
Snyder cut Michigan business taxes by about $1.7 billion, but he also eliminated most of the state's future business tax credits, choosing to maintain an annual pool of $100 million for all tax incentives instead of maintaining individual tax credit programs for specific industries.
Ford today called on the state not to abandon "tax incentives that encourage and create new jobs."
Nationally, Ford, a self-proclaimed environmentalist, called on the U.S. to form a national energy policy.
"People will say we don't want to pick winners and losers, and I'm respectful of that, but within that framework I think we can have a discussion about where do we want to go as a nation and how do we get there," Ford said.
Ford declined to discuss Ford Motor Co.'s pending contract with the United Auto Workers union, except to say that social media sites like Facebook have changed the communication strategy during contract discussions.
"Everybody gets a voice out very quickly and information whether real or partial gets out immediately," Ford said. "It's a new world. And it's a challenge in some respects, it's also great for information flow and democracy in another sense."
Contact AnnArbor.com's Nathan Bomey at (734) 623-2587 or nathanbomey@annarbor.com. You can also follow him on Twitter or subscribe to AnnArbor.com's newsletters.