Posted on
Thu, Nov 24, 2011 : 5:59 a.m.
Black Friday 'madhouse': Ann Arbor shoppers and retailers gear up for midnight rush
By Lizzy Alfs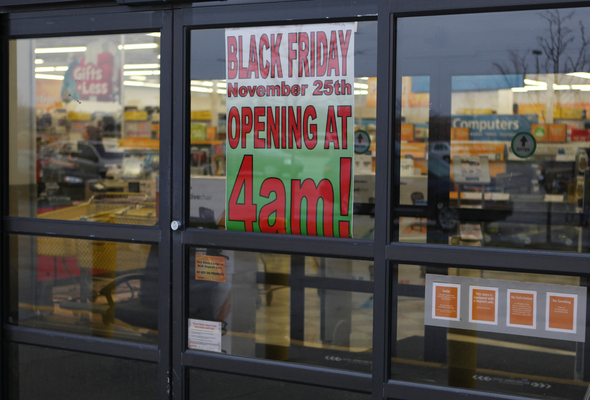 Jeff Sainlar | AnnArbor.com
When Ann Arbor native
John Alan
was younger, his mom would make him wake up at 3 a.m. the day after Thanksgiving so they could go wait in long lines outside big-box stores offering "doorbuster" deals on
Black Friday
.
Alan's sentiment about the family tradition? "It was miserable."
Now, Alan avoids Black Friday at all costs.
"I won't do Black Friday anymore. It's not worth it to stand in a long line, not get any sleep and fight over the best deals," he said.
But Black Friday — one of the biggest shopping days of the year with special events and price markdowns — has changed.
Many big-box stores are opening at midnight for the first time, rather than 4 a.m. or 5 a.m. Some stores, like Toys R Us and Walmart, are rolling out Black Friday deals the night of Thanksgiving.
Nearly two dozen retailers at Briarwood Mall plan to open for business at midnight, making it the earliest the mall has ever opened its doors on Black Friday.
Retailers are hoping the earlier openings will equal increased sales this year, and that could prove to be true, according to data released from the National Retail Federation.
Some 152 million shoppers are expected to visit stores and shopping websites the weekend of Black Friday, up from the 138 million shoppers who spent $45 billion in stores and online in 2010.
NRF projects that about 74 million people will "definitely" hit the stores this year, while another 77 million will wait to see if the bargains are worth the trip.
"We fully expect to see excited shoppers as early as midnight at stores around the country, as many holiday shoppers would rather stay up all night to take advantage of retailers' Black Friday deals rather than set their alarm to wake up the next morning," NRF President Matthew Shay said in a statement.
And for Ann Arbor resident Julie McDonald, this rings true: She would start shopping midnight, finish and then go home and sleep.
"I think it's easier to be up and stay up and go out for a few hours," she said.
"But I've heard of some stores opening even earlier than midnight," she continued. "I don't like that at all. I think that's still Thanksgiving Day and that crosses the line. I think midnight is good enough."
McDonald's same concern has been raised by thousands of people in recent weeks, as more than 190,000 people signed a petition on Change.org called "Tell Target to Save Thanksgiving." It calls for Target to cancel its midnight opening on Black Friday to let employees enjoy the holiday.
Tom Goldberg, an owner of the Waters Place shopping center on Lohr Road - which houses a Best Buy, Kohl's and Dick's Sporting Goods - acknowledged that the Black Friday hours are getting "crazier and crazier."
"I'm not sure that's necessary," he said. "But I guess it's better for the shopping community. I think there's a whole group of people who get caught up in the excitement."
Goldberg said he's "guardedly optimistic" about Black Friday in the Ann Arbor area this year.
"I'm optimistic that people will feel more comfortable about spending during the holiday season and maybe spend a few more bucks," he said. "It's my hope."
For some Ann Arbor residents, the significant markdowns on products — such as a 42 inch flat screen TV for $199 at Best Buy — will be too good to pass up this year.
"It's easy for me to go out at midnight," said Ann Arbor shopper Emilie Barnett. "I'll be up anyway."
After Best Buy, Barnett plans to head over to the mall to buy some clothing on sale. She could also win some of the free giveaways Briarwood has planned as "doorbuster" deals, such as a pair of tickets to Saturday's Ohio State-Michigan football game and a $100 gift certificate to The Chop House.
McDonald's "Street Teams" will also be stationed at Von Maur handing out coupons and $5 McDonald's gift cards at 6 a.m and noon on Friday while supplies last. They'll give out about $3,300 in gift cards at Briarwood, said press relations representative Leslie Pardo.
But for Ypsilanti residents Angel and Tom Clements, the price markdowns and special giveaways won't be enough to get them shopping on Black Friday. In fact, they did some shopping at Best Buy on Monday this week instead.
"I like to stay indoors while a madhouse is happening," Angel Clements said.
"I think Black Friday is crazy. It's just stupid, that's what it is," Tom Clements said. "Plus, you can do everything over the computer now."
Lizzy Alfs is a business reporter for AnnArbor.com. Reach her at 734-623-2584 or email her at lizzyalfs@annarbor.com. Follow her on Twitter at http://twitter.com/lizzyalfs.