Posted on
Mon, Nov 28, 2011 : 10:56 a.m.
Black Friday traffic and spending reach historic highs with midnight openings
By Lizzy Alfs
Related story: Q&A: Cyber Monday: Online retail's biggest day is indicator for rest of holiday shopping season, Ann Arbor executive says
More shoppers than ever before braved the cold and crowds on Black Friday this year, signaling that midnight openings were a success for many retailers.
An estimated 226 million people visited stores and websites over the holiday weekend, up from 212 million in 2010, according to the National Retail Federation.
Total spending reached $52.4 billion, with the average shopper spending $398.62. Last year, shoppers spent an average $365.34.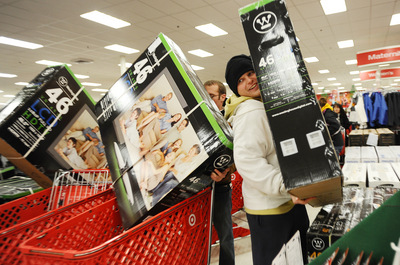 Melanie Maxwell | AnnArbor.com
Among the top Black Friday purchases: Clothing and accessories, electronics, home decor, gift cards, toys and jewelry.
In Ann Arbor, thousands of people waited outside big-box stores and Briarwood Mall as retailers opened at midnight or earlier, like 9 or 10 p.m. on Thanksgiving night. Young people and first-time Black Friday shoppers dominated the crowds.
At the Best Buy on Lohr Road, people started camping out Wednesday to get the best deals - such as a 42 inch flat-screen TV for $199.
Both the traffic and spending broke Black Friday records nationwide, and it indicates that shoppers crave these early openings, said Phil Rist, BIGresearch executive vice president, in a release.
"The appetite for these early openings is only getting stronger among holiday shoppers, and retailers did a great job providing Americans just what they wanted this weekend - the ability to shop on Black Friday without having to get out of bed before dawn," he said.
Of the 86.3 million shoppers that shopped on Black Friday, 24.4 percent were at the stores by midnight. In 2010, only 9.5 percent showed up to wait at stores by midnight, up from 3.3 percent in 2009.
For the rest of the holiday season, NRF is predicting sales to reach $465.6 billion, a 2.8 percent increase over 2010. Lizzy Alfs is a business reporter for AnnArbor.com. Reach her at 734-623-2584 or email her at lizzyalfs@annarbor.com. Follow her on Twitter at http://twitter.com/lizzyalfs.