Posted on
Thu, May 30, 2013 : 5:58 a.m.
Blimpy Burger owner: As closing date approaches, search continues for new location
By Lizzy Alfs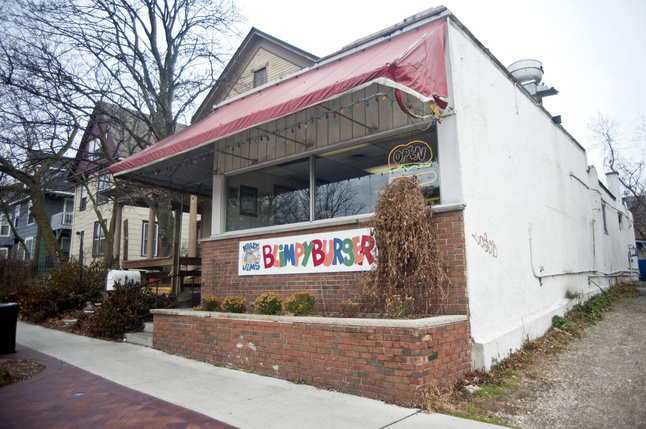 Joseph Tobianski | AnnArbor.com
Krazy Jim's Blimpy Burger
owner
Rich Magner
is still searching for a new location for the 60-year-old Ann Arbor restaurant, which has to vacate its existing building by Aug. 31.
Magner said he's looking at a space on East William Street near the University of Michigan's campus, and one space on the west side of downtown.
"We're working on it," he said. "There's a space that we're looking at that's really small, and we're just struggling to see if we can figure out a way to make it work."
Magner was notified in late 2012 that he would need to vacate the Blimpy Burger building at 551 S. Division St. when his current lease expires on Aug. 31. Patricia Shafer, the property's long-time owner and wife of Blimpy Burger's original founder, Jim Shafer, sold the property to the University of Michigan for $1.075 million in December.
By combining adjoining parcels that includes the Blimpy Burger property, the University of Michigan has plans to build a dormitory for graduate students.
Magner said he's still hopeful he will find a new location, but said there might be a lapse between when the old Blimpy Burger closes and the new restaurant opens.
"I haven't lost the confidence, I'm only discouraged because it's been a tough decision," he said.
Magner also is toying with new business ideas — such as catering and adding salads or soups to the menu — but said the vibe of the restaurant would stay the same at a new location. Ideally, he said he'd like to have more seats and dining space.
"I definitely don't mind having a line, but it does snake through the tables right now," Magner said. "It would be nice if that wasn't the case. …The biggest thing is we grind our own beef every day, and that will be the same. And the order process will be the same."
Magner said Blimpy Burger employees would be offered jobs at a new location.
Because the cost of a new restaurant build-out could cost more than $100,000 — a price Magner can't cover on his own — he's considering launching a campaign on crowdfunding website Kickstarter.
There isn't an official last day of business at Blimpy Burger's South Division Street building, but the restaurant has to vacate the space by Aug. 31. Magner said there likely will be a celebration during the restaurant's last few days in the building.
Lizzy Alfs is a business reporter for AnnArbor.com. Reach her at 734-623-2584 or email her at lizzyalfs@annarbor.com. Follow her on Twitter at http://twitter.com/lizzyalfs.