Posted on
Tue, Sep 13, 2011 : 1:33 p.m.
Bongz & Thongz opens in downtown Ann Arbor, reports $30,000 financial hit after city blocked sale of sex toys
By Lizzy Alfs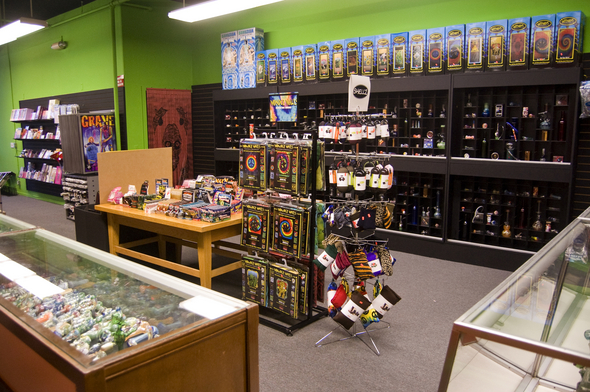 Joseph Tobianski | AnnArbor.com
More than a month after the city of Ann Arbor
delayed the opening
of downtown retailer
Bongz & Thongz
, the adult novelties and "head shop" store opened its doors for business on Saturday.
But storeowners Kilo Hassan and Steve Aboula said their business isn't yet living up to its name.
The walls in Bongz & Thongz — formerly called Bongs & Thongs — are stocked with smoking devices and other accessories, but because of an obscure city ordinance, the downstairs adult novelties portion of the store hasn't opened.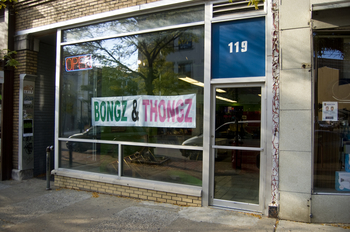 Joseph Tobianski | AnnArbor.com
"We can't sell our sex toys and it just defeats the purpose of our basement and defeats the name of the place," Aboula said.
The plan for the 2,600-square-foot space, located at 119 E. Liberty St. in the former Liberty Street Video building, was to have a "head shop" on the first floor with an adult novelties portion downstairs.
After applying for building permits and an occupancy license, Aboula said he was given the go-ahead from the city to open the store.
However, as plans moved forward, the city put a "Notice to Stop Work" sign on the storefront, citing an ordinance from 1978 that restricts the products that can be sold by adult entertainment businesses downtown.
The zoning ordinance does not allow the sale of "devices of simulated human genitals or devices designed for sexual stimulation" in the D1 District of downtown if these amount for more than 20 percent of a business' sales, according to city documents.
As the Bongz & Thongz owners were trying to get their occupancy license for the space, Aboula said he promised the city he wouldn't sell sex toys, period.
"We gave them our word to make it easier for us to open," Aboula said. "I didn't want to go back and forth with the city at that time."
He said his promise came just a little too late, though, and he's now lost $30,000 from sex toy products he ordered but cannot sell in the Bongz & Thongz store.
"It sucks," he said. "That stuff is just sitting there now collecting dust and I couldn't return it without a huge restocking fee. We're trying to build a website with a PayPal account so hopefully we can sell it online."
With a 1,300-square-foot basement sitting empty, Aboula said he would have reconsidered opening the store in Ann Arbor if he had known he couldn't sell sex toys.
"I love this location, but I would have thought of something else before jumping into this," he said. "Maybe more of a smoke shop, like a hookah cafe or something."
Aboula said his next step is to contact the city to see if they can come to some sort of agreement about the sale of sex toys.
"I can contact the city one more time and I'm having my attorney look in to it," he said. "I don't know where to go from here because I have more customers walking in here for the downstairs part than the upstairs."
For the time being, Aboula said he's ordering lingerie and Halloween costumes to stock the basement, but he hopes to come up with a new business plan soon.
"We're still paying rent for downstairs," he said. "We need to act quickly and utilize that space."
Lizzy Alfs is a business reporter for AnnArbor.com. Reach her at 734-623-2584 or email her at lizzyalfs@annarbor.com. Follow her on Twitter at http://twitter.com/lizzyalfs.