Posted on
Wed, Jun 8, 2011 : 11:50 a.m.
Borders is considering a move to former Visteon Village complex in Wayne County
By Nathan Bomey
(This story has been updated several times with additional information.)
Ann Arbor-based Borders Group Inc. is considering moving its corporate headquarters to western Wayne County in a bid to save costs by shifting to a smaller office complex, AnnArbor.com confirmed today.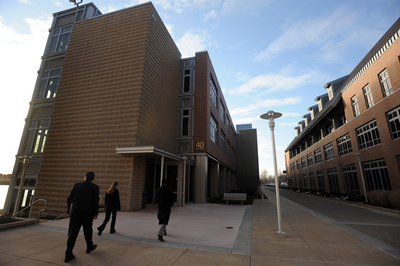 File photo | AnnArbor.com
Borders confirmed that the company is considering a move to the
Grace Lake Corporate Center
in
Van Buren Township
, a campus of office buildings formerly known as
Visteon Village
.
In response to an AnnArbor.com inquiry, Borders spokeswoman Mary Davis said in an email that the former Visteon Village complex "is one of the properties we have looked at but, as of today, nothing has been finalized."
The statement comes after Borders recently announced that it would exit its headquarters on Phoenix Drive on Ann Arbor's south side.
Borders CEO Mike Edwards told AnnArbor.com last month that the company would focus its office search on a 10- to 15-mile radius surrounding its existing headquarters. He said the company currently has fewer than 400 workers occupying about 25 percent of its 460,000-square-foot building, which is owned by Agree Realty.
"We're not averse to moving in Ann Arbor or moving anywhere else," Edwards said. "We just need far less space than we have today. And there's far more economic deals than there were when this building was constructed."
Grace Lake Corporate Center, which is located at 1 Village Center Dr. in Van Buren Township just east of I-275, is about 20 miles away from Borders' current headquarters.
The bookstore chain filed for Chapter 11 bankruptcy protection in February and is actively seeking bids for most of the company's remaining stores while simultaneously preparing a reorganization plan that would have to be approved by a judge.
A move out of the area would end the company's 40-year corporate relationship with the city of Ann Arbor, where Tom and Louis Borders started the company.
At the Grace Lake Corporate Center, Borders would join General Electric's 200,000-square-foot Advanced Manufacturing & Software Technology Center, which the company opened in 2009 with plans to add 1,300 jobs.
Visteon, which built the complex, still has a presence there but it's much smaller than it used to be.
Grace Lake Corporate Center, which has 850,000 square feet in office facilities, has about 175,000 square feet ready to be leased, according to a real estate listing by broker CB Richard Ellis.
A real estate agent from CB Richard Ellis was not immediately available for comment.
Paul White, the supervisor of Van Buren Township, said he was not aware of the company's plans.
It's not clear how Borders' plans to move would be affected by an acquisition of the company. The Wall Street Journal reported Tuesday that Phoenix-based Najafi Companies joined Los Angeles-based private equity firm Gores Group on the list of companies that are publicly known to be considering a bid for Borders.
Contact AnnArbor.com's Nathan Bomey at (734) 623-2587 or nathanbomey@annarbor.com. You can also follow him on Twitter or subscribe to AnnArbor.com's newsletters.