Posted on
Wed, Apr 6, 2011 : 12:10 a.m.
Borders plans to move headquarters 'somewhere within metro Detroit,' but search 'includes Ann Arbor'
By Nathan Bomey
(This story has been updated.)

Bookstore chain Borders Group Inc. plans to move out of its Ann Arbor headquarters, the company said.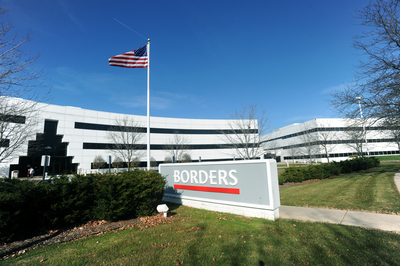 A move out of Ann Arbor — which would presumably save the company cash as it reorganizes under
Chapter 11 bankruptcy protection
— would end the chain's 40-year corporate relationship with the city.
The Wall Street Journal reported that the company would move its headquarters to "cheaper office space in the greater Detroit metro area."
Borders spokeswoman Mary Davis told AnnArbor.com this morning in an e-mail that the company is "looking to move our HQ to somewhere within metro Detroit," but she clarified that the real estate search "includes Ann Arbor." She said the company is considering "a variety of options" but that a final decision "has not been made."

Her statement raises the possibility that the company could be lured to stay in the city of Ann Arbor.

Davis said the company is maintaining a "focus on reducing expenses and running our business as efficiently as possible."
She added: "We are currently reviewing our options with regard to where we will relocate our company headquarters and beyond that we have no comment."

The company is believed to have about 550 workers at its headquarters on Phoenix Drive, down from about 1,800 at its height several years ago. Borders rents space from Agree Realty, which has recently been seeking other tenants and even lured cell phone recycling firm ReCellular to sublease office space there.
The decision comes after Borders' chief financial officer, Scott Henry, hinted in a March 11 call with publishers that the company was considering further reductions to its corporate office space.
Under Chapter 11 bankruptcy, Borders can renegotiate leases or cut leases altogether with the court's approval. The company is simultaneously closing 226 superstores in an attempt to return to profitability and emerge from bankruptcy as a viable company.
Agree Realty in the fall quietly put the 460,000-square-foot building that houses Borders up for sale, seeking $18.349 million.

Asked this morning whether the company's corporate relocation would lead to additional job cuts, Davis said: "We are looking forward to implementing our new business model and continue to evaluate our staffing level to ensure that we have the right people in place to execute our plan. We are confident that with the support of employees, publishers, suppliers and creditors, and the reading public we will emerge from Chapter 11 as a stronger, more relevant book seller."
The loss of Borders' headquarters wouldn't have a significant immediate impact on the city's property tax base, said Tom Crawford, Ann Arbor's chief financial officer.

Borders' headquarters building and flagship store accounted for about $1.5 million in property taxes in 2010, according to city records.

"We've monitored this in the press for some time and are clearly disappointed to see the company struggle financially," Crawford said in an e-mail. "Longer-term, of course, we'll have to wait and see how effectively the space can be marketed to others for use."

Borders' possible exodus is not comparable to Pfizer's departure a few years ago, when the pharmaceutical giant completely closed its Ann Arbor operation and about two-thirds of the scientists left in a blow to the real estate market and property tax base. With this situation, however, Borders employees who also live in the Ann Arbor area may be able to commute to their new workplace.
Meanwhile, Borders is quickly trying to put together a reorganization plan to present to the U.S. Bankruptcy Court and its creditors with hopes of exiting bankruptcy in the fall.
But some experts believe the company may find it difficult to convince the court that it can achieve a sustainable business model.
Borders started as a uniquely Ann Arbor company. Brothers Tom and Louis Borders launched the company in 1971 as an 800-square-foot used bookstore called Borders Book Shop on South State Street in the shadow of the University of Michigan.
The store got a warm reception in this college town and, fueled by a smart business model and innovative inventory tracking software, the company started to add locations throughout the country. By 1992, with about 21 stores, the brothers sold Borders to Kmart Corp., which proceeded to merge it with the small-format bookstore chain Waldenbooks.
The company went public in 1995 as Borders Group Inc. and continued its nationwide expansion, disrupting the book store industry and reshaping the shopping experience for readers.
By 2006, the company had ballooned to 567 superstores. But, by all accounts, the company was bloated and was losing the Internet sales game.
Borders narrowly avoided bankruptcy during the height of the global financial crisis in 2008, but the company is now fighting for its survival inside bankruptcy.
Borders President Mike Edwards told the Wall Street Journal that the company doesn't envision revenue growth until 2013 and that it would consider a sale of the company as a potential conclusion for the bankruptcy process.
Davis said Borders' plans include "an innovative business model" that will include "aggressively growing Borders.com and expanding our eBook market share, expanding and enhancing our overall retail mix, including non-book offerings, and continuing to enhance our Borders Rewards Plus program."
The company faces a steep climb to profitability. The firm, which was publicly traded until its bankruptcy filing, lost $604.8 million from 2006 to 2009 and another $168.2 million in the first 11 months of 2010.
According to a recent AnnArbor.com analysis of Securities and Exchange Commission documents, average sales per square foot at Borders superstores fell 33.7 percent from a peak of $261 in the 1998 fiscal year to $173 in 2009.

Adjusted for inflation, average sales per square foot at Borders superstores declined 49.6 percent from 1998 to 2009.

Contact AnnArbor.com's Nathan Bomey at (734) 623-2587 or nathanbomey@annarbor.com. You can also follow him on Twitter or subscribe to AnnArbor.com's newsletters.