Posted on
Tue, Oct 5, 2010 : 6:01 a.m.
For sale: Borders corporate headquarters in south Ann Arbor listed for $18.349 million
By Paula Gardner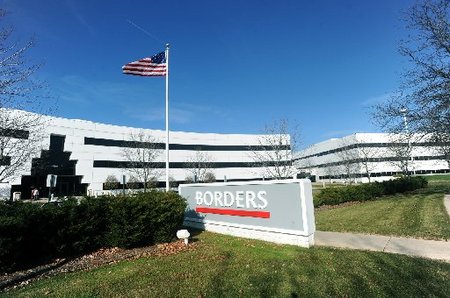 File photo
For sale: "Ideal high-image corporate facility" in Ann Arbor, according to marketing materials.
The price: $18.349 million. The size: about 460,000 square feet.
The tenant: Borders Inc.
It's a quiet listing - so quiet that building owner Agree Realty Inc. didn't return phone calls asking about the listing. Local commercial real estate insiders say many local brokers have signed confidentiality agreements to gain access to information.
That's because the listing may dial up speculation about the future of the bookseller, which once filled the building, but - as layoffs continue - now employs an estimated 600 people in the headquarters.
The property is located at 100 Phoenix Drive, just south of I-94 and east of South State. It's in Ann Arbor, near the city's southern border.
It's not the first corporate headquarters to hit the market in recent years. The former Flint Ink building in Ann Arbor Township, for example, was sold this year to Masco Cabinetry for a division headquarters.
It's also not the first high-profile building near State and I-94 to hit the market this year: The 777 Building at State and Eisenhower - which totals 410,000 square feet in two buildings- sold earlier this year, too.
But the combination of several factors makes it interesting on the real estate front:
• It's one of the largest buildings in Ann Arbor. It's more than three times the size of the Masco building, for example, and just less than half the size of Domino's Farms.
• Even at that size, the purchase price of $40 per square foot pushes it into the bargain realm. The 777 Building sold for $159 per square foot. Part of that may be condition - 100 Phoenix Dr. was renovated in 1998. Part of it also could be the difficulty of repositioning the space in today's market because a user of that size is hard to find. And Borders no longer needs all of the space and has had some of it up for sublease.
On the other end of the spectrum, the Masco building - which had no tenants and was purchased by an owner-occupant - sold for $23 per square foot.
• There's an existing corporate tenant in the building, with a remaining 12 years on the lease (plus options to extend the deal, it appears). The quality and duration of the lease should be dictating much of the list price. By comparison, the recent sale of the 777 building for $65.2 million means that building (and the quality and duration of its leases) was worth 3.5 times the Borders building. It's not an equal example, but it does come close as a "comp" for a large building that isn't owner-occupied.
Aside from the building, changes continue at Borders. The company recently realigned some corporate staff as ownership and leadership attempts to stabilize. It's also setting up a holiday strategy that includes a broader range of non-book merchandise. Electronic books and devices also play a role in its announces repositioning strategy.
Real estate-wise, the company announced in May that it would "aggressively pursue lease buyouts" at underperforming stores. Its annual lease obligations for its entire real estate footprint is about $500 million per year.
Of that amount, about $9.26 million goes to Agree Realty, the publicly held real estate company based in Farmington Hills that not only holds store leases, but also owns the Borders headquarters. According to its filings, 27 percent of Agree's $34 million in rental income comes from 17 leases to Borders.
Local real estate experts are saying that the listing of the Borders headquarters appears to be a step toward diversifying a real estate portfolio that's heavy on three major tenants. The other two are Walgreens, with 28 stores; and Kmart, with 12 properties.
The building was purchased by Agree's Phoenix Drive LLC in July 1996 for $7,965,396, according to city records. It's now assessed at $14,566,500 - giving it an estimated market value of about $29 million.
While Agree takes a stab at diversifying its portfolio, the city also will have a stake in the outcome of the listing. At its current valuation, the property generated $818,456 in property taxes in 2009.
Paula Gardner is Business News Director of AnnArbor.com. Contact her at 734-623-2586 or by email. Sign up for the weekly Business Review newsletter, distributed every Thursday, here.