Posted on
Mon, Jun 20, 2011 : 10:16 a.m.
Borders plans to reveal possible acquirer by July 1
By Nathan Bomey
Ann Arbor-based Borders Group Inc., by the end of the month, plans to reveal the name of an outside company that has submitted the largest bid to acquire the bookstore chain.
A Borders spokeswoman confirmed this morning that the company plans to unveil details of the proposed acquisition on or before July 1, although "discussions are continuing with a number of interested parties," she said.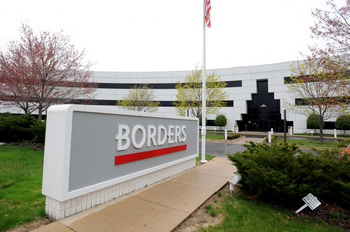 Melanie Maxwell | AnnArbor.com
Borders, following standard procedure in the
Chapter 11 bankruptcy
process, would name a "stalking horse" bidder — a leading suitor whose bid would set the bar for other possible acquirers, giving them a chance to consider whether they want to pay more for the firm's assets.
As part of the process, Borders wants to hold a bankruptcy auction on July 19 and a court hearing to get the sale approved days later, according to a Reuters report.
A bankruptcy auction is a high-stakes affair in which lawyers for potential acquirers compete to buy the bankrupt firm, sometimes resulting in a dramatic courtroom scene.
According to previous reports, private equity firms Gores Group and Najafi Companies are among the firms that are considering a bid for Borders, which may have to sell its assets to a liquidator if it can't find a buyer.
As more time goes by, it becomes less likely that Borders will deliver a reorganization plan that would allow the company to successfully emerge from bankruptcy on its own. A sale is now more likely.
A sale to an outside firm likely would allow most Borders store to continue operating, although it's unclear how a sale would affect the company's headquarters in Ann Arbor, where close to 400 employees work. Borders is simultaneously considering a move out of Ann Arbor, possibly to the former Visteon Village complex in Van Buren Township.
The company recently reached a deal with the firm that provided its bankruptcy financing, GE Capital, to allow the company to keep its remaining stores open for now. The company, which has closed about 230 stores since its February bankruptcy filing with the U.S. Bankruptcy Court's Southern District of New York, had previously said that it might have to close about 50 more stores if it couldn't get lease concessions or extensions.
Contact AnnArbor.com's Nathan Bomey at (734) 623-2587 or nathanbomey@annarbor.com. You can also follow him on Twitter or subscribe to AnnArbor.com's newsletters.