Posted on
Thu, Dec 9, 2010 : 4:14 p.m.
Borders posts $74.4 million loss as sales slip further, liquidity concerns emerge
By Nathan Bomey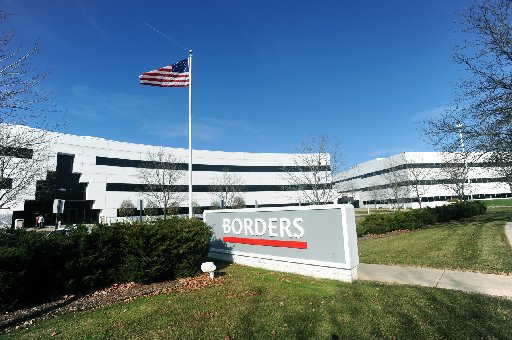 File photo
(This story has been updated several times with additional information, including comments from Borders' call with investors.)
Ann Arbor-based Borders Group Inc. announced late this afternoon that it recorded a third-quarter net loss of $74.4 million, doubling its loss from the same period in 2009.
Borders said that its revenue declined 17.6 percent to $470.9 million and that sales at stores open at least a year dropped 12.6 percent during the quarter ended Oct. 30.
The sales reduction was partially attributable to the closure of 204 bookstores since the third quarter of 2009, including 191 Waldenbooks and Borders Express stores. But those closures failed to lift the company to profitability.
The discouraging financial results reflect a continuous slide in sales for the struggling retailer and are sure to provide fodder for discussion as the company prepares for a possible bid to acquire rival Barnes & Noble.
In a news release, the company revealed that its ability to borrow money — which is critical to a retailer's day-to-day operations - had declined due to a lower valuation of its inventory and "other factors." That has prompted "detailed discussions with potential lenders for replacement financing," the company said.
"Additional steps that we are pursuing include the potential sale of certain assets as well as cost reduction and sales generating initiatives," Borders said. "There can be no assurance that we will be able to obtain adequate financing or that our other initiatives will be successful. If the steps that we are taking are not successful, we could be in violation of the terms of our credit agreements in the first quarter of calendar 2011, which could result in a liquidity shortfall."
A liquidity shortfall could threaten Borders' ability to conduct its day-to-day business.
Borders executives, in a call with investors this afternoon, called the latest sales report "disappointing."
Mike Edwards, CEO of Borders Group subsidiary Borders Inc., said he still believes "we can transform the iconic Borders brand into a profitable economic model over time."
He said an effort to revitalize the Borders brand by shifting to more non-book products and placing a greater emphasis on digital sales is critical.
"We are not far enough along in the process for it to have a meaningful positive effect on our last quarter's progress," he told investors.
Borders executives confirmed previous statements that they favor a possible merger with Barnes & Noble, a proposal pitched Monday by New York hedge fund manager Bill Ackman's Pershing Square Capital Management. Ackman said he would be willing to help finance a bid for Barnes & Noble.
Edwards said today that Borders believes there would be "considerable" benefits to combining the two booksellers, but he declined to offer further comments. Barnes & Noble's leadership has yet to comment on Ackman's proposal. Analysts have suggested there are many hurdles to a deal.
Borders posted a loss of $37.7 million and sales of $571.4 million during the third quarter of 2009.
Borders said it would continue to pursue more digital book sales and "non-book products," such as children's products. Sales in the kids' toys and games category increased 6.6 percent in the third quarter, Borders said.
The company also benefited from an $11 million influx in revenue from its upgraded Borders Rewards loyalty program, which allowed customers to pay $20 to get various deals online and at the physical store.
Borders also announced today that it would launch a pilot at "a handful of stores" in the Washington D.C. and New York City areas, where it plans to dedicate more space to kids' products, children's programs and an expanded cafe area.
Edwards said the pilot grew out of research Borders is conducting in partnership with the Boston Consulting Group.
Online book sales declined by 8.6 percent to $12.5 million in the third quarter, though the firm held back on discounts for most of the quarter in anticipation of unveiling its redesigned website in November.
Meanwhile, Borders is aggressively trying to reduce its extensive physical footprint. The firm closed five stores in the third quarter and plans to close another 16 stores in the fourth quarter, including four with early lease terminations.
Shares of Borders' stock (NYSE: BGP) slipped $0.10 in after-hours trading to $1.27, though that is up from $1.08 last Friday.
Contact AnnArbor.com's Nathan Bomey at (734) 623-2587 or nathanbomey@annarbor.com. You can also follow him on Twitter or subscribe to AnnArbor.com's newsletters.