Posted on
Mon, Nov 15, 2010 : 10:20 a.m.
Borders launches redesigned website in digital push for the holidays
By Nathan Bomey
Ann Arbor-based Borders Group Inc. said today that it had launched a redesigned website today in a concerted effort to boost its online sales as the critical holiday season dawns.
Facing intense competition from big-box stores like Walmart, online retailers like Amazon and the emerging electronic books industry, Borders said today that its new website was easier to use and offers a more competitive pricing structure for customers.
Borders is seeking to give the site an early boost by providing free shipping on all orders placed today.
"Ensuring a world-class online shopping experience is at the core of Borders' brand transformation strategy," said Mike Edwards, CEO of Borders Group subsidiary Borders Inc., in a statement. "We've listened to our customers, discounted tens of thousands of our top online titles, rolled out new product lines and a streamlined, more social online experience. We have to challenge ourselves to keep offering the best customer experience both in store, and on the Web and these changes demonstrate once again that Borders can deliver on the best consumer experience."
Borders said the redesigned site includes discounts on 100,000 "bestselling titles," though it's unclear how many of those discounts were new.
New features include:
• A feature that allows the 40 million members of Borders Rewards loyalty program to post book reviews to the site and promote those reviews via Facebook. Borders said it would also encourage its network of more than 19,000 employees to write reviews. Some reviews will be integrated at brick-and-mortar stores in some capacity, Borders said.
• Improved navigability, including drop-down menus and search engine improvements -- an overhaul "that invites customers to indulge in the joy of discovery," Borders said in a news release.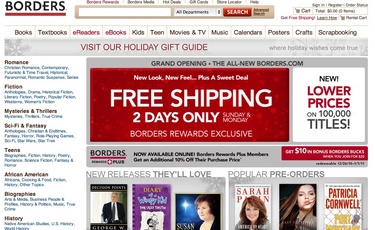 • A feature that allows users to see all formats in which a book is available, as well as a Google Books preview option with some titles.
• More non-book products, part of a strategy announced earlier this year to diversify its product line. New products at Borders.com include posters, craft supplies and scrapbooking products, the company said.
The new website comes as Borders is facing an intimidating holiday season. The firm's sales have been on a continuous slide with no sign of a turnaround. In its second fiscal quarter, which ended July 31, Borders reported that its sales slipped 11.5 percent to $526.1 million. Sales at stores open at least a year declined 6.8 percent over the same period.
The company posted a loss of $46.7 million, up from a $45.6 million loss during the same period in 2009. Borders has conducted two sets of layoffs this year at its corporate headquarters in Ann Arbor, where the firm is believed to employ about 600 workers now.
The company's stock (NYSE: BGP) opened at $1.14 this morning.
Contact AnnArbor.com's Nathan Bomey at (734) 623-2587 or nathanbomey@annarbor.com. You can also follow him on Twitter or subscribe to AnnArbor.com's newsletters.