Wall Street Journal:

Borders stores like Apple stores? Private equity firms weigh possible acquisition

Posted on Tue, Jun 21, 2011 : 1:08 a.m.
Take the best of consumer electronics giant Apple's popular stores and apply it to Borders.
That's one proposal under consideration by one of two private equity firms considering an acquisition of Ann Arbor-based bookstore chain Borders Group Inc., according to a Wall Street Journal report published late Monday.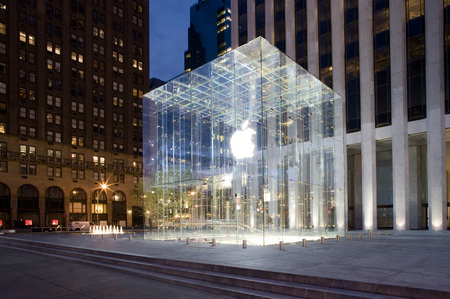 Photo courtesy of Apple
WSJ, citing anonymous sources, profiled Los Angeles-based
Gores Group
and Phoenix-based
Najafi Companies
— which are said to be considering paying at least $250 million for most of the company's remaining stores.
Gores is considering turning Borders stores "into more appealing destinations akin to Apple Inc.'s outlets" and selling a new electronic books reader made by Hewlett-Packard in Borders stores, WSJ said. Meanwhile, Najafi is interested in promoting the Book-of-the-Month Club and Doubleday Book Club — both of which it already owns — at Borders.
The advantage of having a private equity firm as the parent company of Borders is that the owners would presumably have the wherewithal and incentive to invest in the bookstore chain in hopes of a successful turnaround.
Of course, many companies have tried to channel Apple's magic only to see their efforts flop.
But in recent years, Borders has lacked the cash or credit to invest in store renovations or new products, such as its own e-reader. In fact, the company nearly ran out of cash in early 2009 and, in February 2011, filed for Chapter 11 bankruptcy with hopes of reorganizing.
Borders on Friday filed papers with the U.S. Bankruptcy Court's Southern District of New York stating that it would reveal the leading bidder for the company's stores by July 1. The company wants to hold a bankruptcy auction July 19 and complete a sale by the end of the month.
Borders, in the court filing, suggested that if it isn't sold, it would be forced "to halt operations and liquidate on an expedited basis, with the attendant loss of value to the estates, recoveries to unsecured creditors and thousands of jobs."
It's unclear how a sale to Gores, Najafi or some unknown entity would affect the company's Ann Arbor headquarters, which still employs close to 400 workers. Borders is already considering moving its headquarters out of Ann Arbor in favor of a cheaper lease.
Contact AnnArbor.com's Nathan Bomey at (734) 623-2587 or nathanbomey@annarbor.com. You can also follow him on Twitter or subscribe to AnnArbor.com's newsletters.