Posted on
Tue, Aug 31, 2010 : 10:50 a.m.
Borders upgrading rewards program in effort to lure more customers
By Nathan Bomey
Ann Arbor-based book store chain Borders Group Inc. is hoping to attract more business with an enhanced version of its loyalty program.
The company said today that it would offer a premium version of its Borders Rewards program for customers willing to pay $20 a year for better deals and their purchases.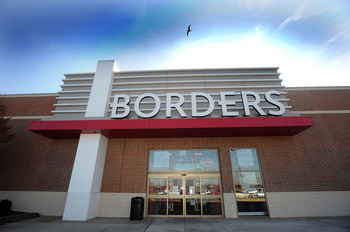 Photo by Lon Horwedel | AnnArbor.com
Borders also plans to upgrade the free Borders Rewards program, which it will continue to offer. The traditional Borders Rewards will offer 30 percent off the list price of "hardcover bestsellers" and free shipping on online orders of $25 or more, Borders said. That offer matches Amazon.com's popular offer, which provides free shipping on orders of $25 or more.

Borders regularly e-mails coupons and promotional announcements to the 40 million members of its loyalty program.
The company's chief physical store competitor, Barnes & Noble, offers perks to people who pay a $25 annual membership fee.
For Borders, the loyalty program upgrades are aimed at generating more foot traffic and convincing shoppers who visit the store to buy something.
The announcement comes as Borders has failed to reverse a continuous revenue slide and faces long-term questions about its viability as an independent retailer.

The company plans to report its second-quarter financial results Wednesday morning, giving investors a peek at the health of the company.
"We saw a great opportunity to differentiate Borders in the marketplace by offering the choice of a paid program or a free program," said Mike Edwards, CEO of Borders Group subsidiary Borders Inc., in a statement. "The new Rewards program will provide members with more relevant content, benefits and discount offers. It's yet another example of Borders' commitment to creating an outstanding customer experience."

The new $20 Borders Rewards Plus program gives members free shipping on all online orders. It also provides 40 percent off the list price of hardcover bestsellers, 20 percent off the list price of "select hardcovers" and 10 percent off the price of "most everything else," Borders said.
Borders also said that it was reducing the prices of the e-readers it sells. The Kobo eReader will be sold for $129 and the Aluratek device will be sold for $99.99.
The cuts are part of a price war in the e-reader industry that experts believe could continue into the holiday shopping season.
Borders also announced that a new partnership with Build-A-Bear, which will be sell 28 products in Borders super stores in an area branded as "Build-A-Bear Craft Shop."

Contact AnnArbor.com's Nathan Bomey at (734) 623-2587 or nathanbomey@annarbor.com. You can also follow him on Twitter or subscribe to AnnArbor.com's newsletters.