Posted on
Wed, Aug 11, 2010 : 11:27 a.m.
Borders Group lays off more employees at Ann Arbor headquarters
By Nathan Bomey
Borders Group Inc., which is battling a continuous revenue slide and massive industry changes, laid off more employees at its Ann Arbor headquarters this morning, a spokeswoman confirmed.
The job cuts come as the book store chain is placing a heavy emphasis on its new electronic books strategy in the midst of major structural challenges to its core business model.
Mary Davis, a spokeswoman for Borders, declined to specify the number of "job eliminations" at the company's Phoenix Drive corporate headquarters, which had 650 workers before the cuts.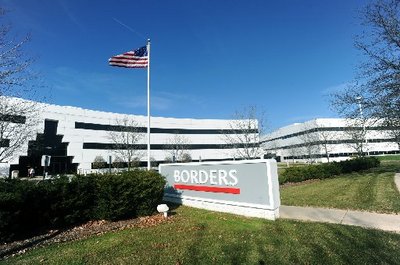 "As we aggressively work to restore the financial health of the company, we have reorganized core areas of our business to ensure that we have the necessary resources in place to support our strategic initiatives," Borders said in a statement Davis provided to AnnArbor.com. "As part of this process, we have made changes to our staffing levels so that the right people are in the right positions and that those positions are aligned with our strategic objectives."
In January, Borders laid off 88 corporate workers in Ann Arbor after a disappointing holiday sales season.
The latest layoffs come two months after tobacco executive Bennett LeBow became the fourth CEO of Borders Group in less than two years. LeBow, who became chairman of Borders in May after investing $25 million in the company, has since asked Borders' Board of Directors to give him the right to purchase an additional 35.1 million shares of the company's common stock.
If he exercised that right - which occurs through an investment vehicle called stock warrants - LeBow would own 35 percent of the company, and New York-based hedge fund Pershing Square Capital Management could own up to 31 percent.
LeBow's vision for Borders' future hasn't been made clear since he took over leadership of the company. It was also unclear whether LeBow ordered today's cuts.

Davis this morning said in an e-mail that LeBow "does not do media interviews."
Michael Edwards, the CEO of Borders Group subsidiary Borders Inc., also wasn't available to discuss the cuts, Davis said.

Borders reported a net loss of $64.1 million in the fiscal quarter ended May 1. The company's first-quarter loss was down from $86.0 million in the first quarter in 2009, but same-store sales at Borders' super stores in the U.S. dropped 11.4 percent. The company's total revenue dropped from $650.2 million to $547.2 million.
Borders stock (NYSE: BGP) was down $0.03 to $1.26 at 12:02 p.m. today.

Borders' top book store competitor, Barnes & Noble, which is considered the healthier of the two companies, put itself up for sale last week as industry challenges persist.

Both companies are struggling to compete on price with online retailers like Amazon.com and big-box retailers like Wal-Mart and Target.

In electronic books, Apple's iPad has already carved out a 22 percent share of the market, and Amazon recently said sales of e-books for the Kindle e-reader recently surpassed its sales of physical hardcover books.
For its part, Borders is selling an e-reader developed by Toronto-based Kobo Inc., which also created an e-book store for Borders. Borders said recently that it hopes to secure 17 percent of the e-books market within a year.

Contact AnnArbor.com's Nathan Bomey at (734) 623-2587 or nathanbomey@annarbor.com. You can also follow him on Twitter or subscribe to AnnArbor.com's newsletters.