Posted on
Mon, Feb 18, 2013 : 5:59 a.m.
Top 20 Ann Arbor taxpayers in 2012
By Lizzy Alfs
Two of Ann Arbor's largest shopping centers and a student housing complex on the north side were the city's top taxpayers in 2012, according to data released this month.
Last year, the city had a taxable value of $4.68 billion and collected $76.5 million in property taxes. That's down from 2011 property tax revenue of $78.6 million and the $82.1 million collected in 2010.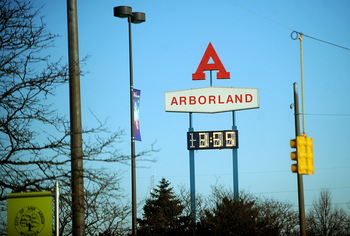 The city's list of top 20 taxpayers in 2012 consists mostly of large apartment complexes, shopping centers and office buildings. It comes as the city's assessor's office is working on 2013 assessments and preparing to mail property owners notices in early March.
The data shows that the top 20 taxpayers accounted for $350,931,391, or 7.28 percent, of the city's roughly $4.68 billion in taxable value. In 2011, the top 20 accounted for $365,457,198, or 7.88 percent, of the city's overall $4.63 billion in taxable value.
The top 5 taxpayers include: Briarwood Mall, Arborland Center, Ann Arbor Campus Housing - or the Courtyards, Detroit Edison and the Eisenhower Plaza office building - or the 777 Building.
Of those properties, all show value drops in 2012 ranging from 1 percent to 19 percent.
One of the largest drops in value on the 2012 Top 20 was at the Maple Village retail center, at 155 N. Maple Rd., which lost more than $4.3 million in taxable value. Real estate listings with Centro are marketing more than 40,000 square feet of available space in the center, meaning it's more than 13 percent vacant. The center also lost $2.8 million in taxable value in 2011.
Ann Arbor Buick Service, or the Huron Village shopping center off Washtenaw Avenue, saw a .27 percent gain after losing $400,000 in taxable value in 2011.
Other notable changes from the top 20 taxpayers list shows housing, which accounts for half of the top 20, is gaining some value. The Windemere and Lake Village apartment complexes both jumped in value after the properties were sold in record-setting deals early last year. McKinley experienced a small jump following several acquisitions and Sterling 411 Lofts also gained value. Glacier Hills senior living community stayed the same with $13,323,600 in taxable value.
Office buildings in the top 20 taxpayers include: Eisenhower Plaza, 2350 Green Road Holdings - or the Northeast Corporate Center, and Burlington Property, which saw a small drop in value.
Falling off the list of top office building taxpayers was McMullen Properties and the former Borders headquarters on Phoenix Drive, which was left vacant following the bookstore's bankruptcy. However, that building sold recently and interest among potential tenants could bring the value up for next year.
Check out the list of the largest taxpayers in 2012 below, and see the historical list dating back to 2001 on the city's website.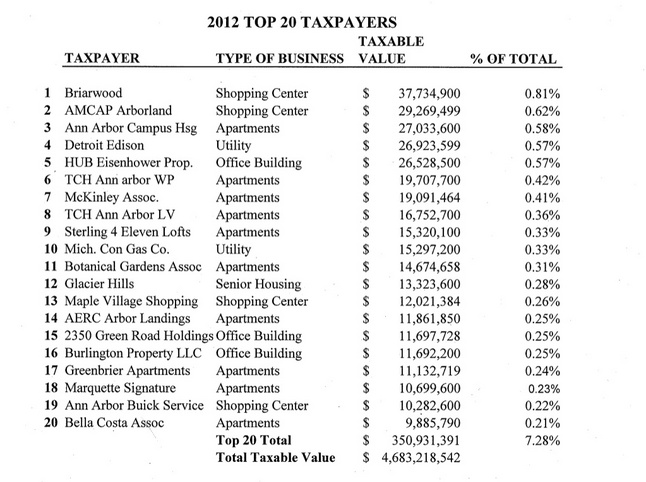 City of Ann Arbor
Lizzy Alfs is a business reporter for AnnArbor.com. Reach her at 734-623-2584 or email her at lizzyalfs@annarbor.com. Follow her on Twitter at http://twitter.com/lizzyalfs.