BTB Burrito owners close unprofitable Packard location in Ann Arbor
Posted on Tue, Aug 17, 2010 : 6:03 a.m.
After trying for nearly five years to turn a profit at its Packard Street location, BTB Burrito has closed the off-campus storefront.
Last Friday's closing does not affect the other two BTB locations, said co-owner Adam Lowenstein. "We felt really horrible but we also felt it was a necessary move." Lowenstein and business partner Justin Herrick own BTB.
The shuttered BTB, at 1906 Packard St., originally housed the company's wholesale operation, and wasn't converted into a retail location until 2005, Lowenstein said.
But the 900-square-foot store never generated the traffic needed to make money. At best, he said, there were months when it broke even, and even that hasn't happened in a while.
"You can only lose money for so long," Lowenstein said. "Our business model is based on volume and we never had the volume we needed."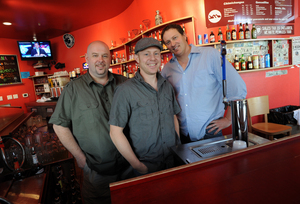 Melanie Maxwell | AnnArbor.com
BTB has been on the fast track since it opened its first retail store at 810 S. State St. in 2004 and followed with the Packard Street location the next year. They bought Good Time Charley's, a popular student bar, at 1140 S. University Ave. in 2007 and opened BTB Cantina above the bar. Last month, the partners bought The Alley Bar at 112 W. Liberty St. BTB dabbled in a franchising operation in East Lansing but that was eventually closed.
"We got to the point where we were expanding BTB too quickly," Lowenstein said. Still, purchasing The Alley, a no-frills bar that caters more to the townie crowd than the student crowd, didn't play a direct role in closing a BTB location.
"We're dropping a piece of the puzzle that wasn't profitable and we're picking up a piece of the puzzle that we hope will be profitable," Lowenstein said.
The partners had been operating their wholesale business, selling burritos to the University of Michigan under contract, out of the Packard kitchen. That contract ended in 2008, but they had been using the Packard store as a prep kitchen for the other locations. With the Packard store closing, all prep work will be done at the individual locations.
The Packard location's 10 employees will be absorbed at the other locations, Lowenstein said.
The closing had been planned for a couple of months, Lowenstein said. But the space won't sit vacant for long. Lowenstein and Herrick own the building and have leased the space to Elizabeth Marcano Kennedy, who will open Marcano's, a takeout restaurant and catering operation specializing in South American food. Before BTB took over, the building housed a Cottage Inn Pizza.