Posted on
Tue, May 21, 2013 : 5:56 a.m.
BurgerFi restaurant plans to open near University of Michigan's campus
By Lizzy Alfs
Lizzy Alfs | AnnArbor.com
BurgerFi
, a Florida-based restaurant chain that sells all-natural hamburgers made with grass-fed beef, is preparing to open near the
University of Michigan
's campus.
A franchisee signed a lease for the 3,645-square-foot space on the first-floor of the University Towers apartment building on the corner of South Forest and South University. Sushiya most recently occupied the space, which was listed for lease with Swisher Commercial's Mike Giraud and Randy Maas when the Japanese restaurant closed.
"We talked to a lot of people (about the space)," Giraud said. "We really were trying to be very particular, and the (BurgerFi) product was a good product and a concept that should work."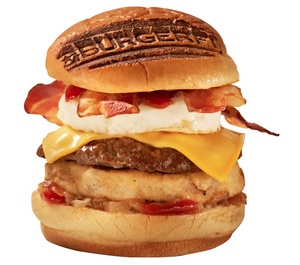 Courtesy of BurgerFi
According to the BurgerFi website, hamburgers are made with all-natural, grass-fed beef.
Along with customizable burgers, the menu includes a quinoa veggie burger, a brisket burger, all-natural Kobe beef dog, chicken dog, hand-cut French fries, frozen custard, and more. The restaurants also serve wine and craft beer that varies by restaurant location.
In addition, the restaurants are built using "earth-friendly elements," like chairs made from recycled Coke bottles and tables made out of recycled wood.
There are about 45 BurgerFi locations that are operating or under construction, according to a company spokesperson.
In recent months, Lovell Contractors applied for City of Ann Arbor permits to move forward with interior demolition at the Ann Arbor restaurant, and renovations were underway on Monday morning.
It's unclear when the restaurant will open, and the franchisee could not be reached for comment. The BurgerFi website says "coming soon" for the Ann Arbor restaurant.
Across the street from BurgerFi, franchisees for Florida-based World of Beer are renovating a first-floor space at the Landmark student high-rise. Owners Steve Rossi and Chad Wilson are hoping to open the craft beer bar in mid June.
Lizzy Alfs is a business reporter for AnnArbor.com. Reach her at 734-623-2584 or email her at lizzyalfs@annarbor.com. Follow her on Twitter at http://twitter.com/lizzyalfs.