Posted on
Wed, Nov 21, 2012 : 2:59 p.m.
Grocery stores gear up for Thanksgiving eve chaos: 'This is like our Rose Bowl'
By Ben Freed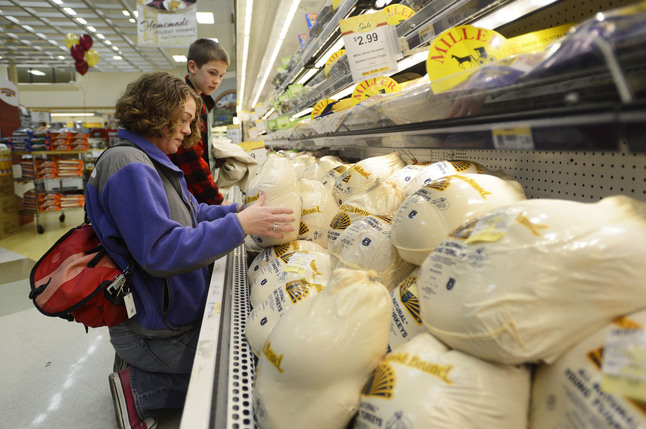 Melanie Maxwell | AnnArbor.com
For
Busch's Fresh Food Market
store manager
JD Hennigan
, the excitement in the air at his
South Main Street store
is palpable. This is the day he waits for all year.
The big-box retailers may have long ago laid claim to Black Friday (and are trying to encroach on Thursday), but the Wednesday before Thanksgiving is his domain.
"If you're in the grocery business, this is what you get passionate about," he said Wednesday morning.
"If you're a NASCAR fan, this is our big race, if you're a Michigan football fan, this is like our Rose Bowl."
Hennigan said this is his store's biggest sales week of the year, and the number one day is Wednesday.
"Even with this week being our biggest, 60 percent of our sales this week will come just on Tuesday and Wednesday," he said.
Director of marketing for the Whole Foods Market on Eisenhower Parkway Susan Bellinson said the day was equally important for her store.
"This is absolutely our business day of the entire year," she said.
"We see a lot of action especially in the meat, baking, and prepared foods departments."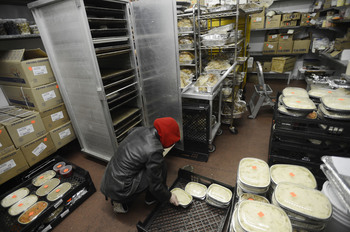 Melanie Maxwell | AnnArbor.com
The prepared foods market has been an increasingly large part of the sales equation for both grocery stores. Both reported a steady growth trend in the pre-cooked meals as people turned towards the stores to do some of the kitchen grunt-work for the holiday.
"We've already had orders for about 40 more meals this year than last, and last year was also about a 40 meal increase from the year before," Hennigan said.
"This is something that we've seen trending upwards for at least the last five years or so. The ovens have been running all day, and I even had three people working overnight last night, two cooking and one doing the prep work."
Even with all of the prepared food sales, Hennigan said 20 percent of his sales during Thanksgiving week are in the produce section, especially green beans, cranberries, sweet potatoes, and squash.
"But of course the centerpiece to many people's Thanksgiving meal is the turkey, and we sell a lot of turkey," he said.
How much turkey exactly? Last year during the holiday season Busch's stores sold a total of 201,678 pounds of turkey. Hennigan said an average turkey weighs about 14 pounds, giving an estimated 2011 total of 14,406 turkeys.
Smaller local food retailers also have seen business boom on the Super Bowl of grocery shopping. Great Harvest Bread Company, located in the same shopping center as Busch's sees major growth at holiday time.
"We double our normal sales on Tuesday, and then triple them on Wednesday," owner Julia Messick said.
"We had the bakers come in at 1:30 a.m. last night instead of 3:30 to get an extra couple of hours baking in. We're also bringing in extra help today to help bag. We baked 1,000 rolls last night."
Hennigan said the busiest time of day will be between 3 p.m. and 7 p.m. as shoppers get out of school and work to do last minute shopping.
"We will have every aisle open, a bagger on every aisle, all of our 'U-Scan' stations and it's still going to be crowded," he said.
With all of the shoppers and all of the preparation, it is still important to try to guess just right how much people will by. Going too far over or too far under when ordering can be even more dangerous around the holidays.
"Ten years ago as a manager I ran out of cranberry sauce on Wednesday morning before Thanksgiving. I couldn't get to the phone fast enough to try to get more because there were so many people yelling and trying to ask me about it," he said. "I learned my lesson that day."
By the same token, however, going too far over on ordering amounts can leave a store with a lot of food and no one to buy it.
"The flip-side of the week is that on the weekend when all of the big box stores are going crazy, we really slow down," Hennigan said.
"People don't really buy much food the day after Thanksgiving, most of them are eating leftovers."
Hennigan, Bellinson, and Messick will be able to relax and eat their own leftovers eventually, but Wednesday it's full speed ahead.
Store Hours:
Wednesday:
Busch's: Open until 11 p.m.
Whole Foods: Open until 11 p.m.
Great Harvest Bread Company: Open until 6 p.m.
Thursday:
Busch's: 7 a.m. - 3 p.m.
Whole Foods: 8 a.m. - 3 p.m.
Great Harvest: Closed
Ben Freed covers business for AnnArbor.com. You can sign up here to receive Business Review updates every week. Reach out to Ben at 734-623-2528 or email him at benfreed@annarbor.com. Follow him on twitter @BFreedinA2