Posted on
Thu, Mar 11, 2010 : 5:50 a.m.
Buyer finalizing deal to purchase former Shops at Arlington land on Washtenaw in Ann Arbor
By Paula Gardner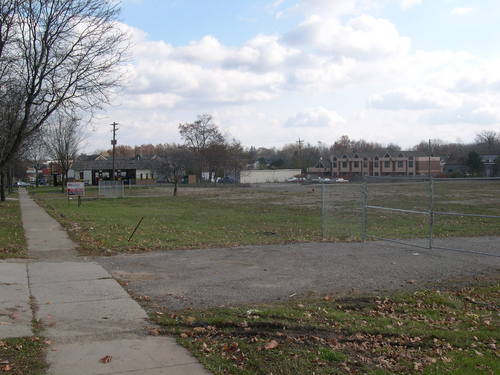 An unidentified regional investor has a deal to purchase the high-profile vacant land on the south side of Washtenaw across from the Huron Village retail center in Ann Arbor, real estate sources say.
The property - which totals 7 acres - had been zoned for a 120,000 mixed-use center called Shops at Arlington.
But that site plan expired after the original developers, who envisioned creating a similar development to the retail center across Washtenaw, defaulted on two mortgages totaling $14.8 million in 2008.
Lender Comerica Bank has been marketing the property through NAI Farbman in Southfield. The asking price is $7.2 million.
Broker Paul Debono confirmed a deal is in the final stages, but would not identify the purchaser until the deal closes.
City officials said several potential buyers indicated interest in the property after it hit the market following the foreclosure.
The location is about one mile west of US-23, with proximity to high-traffic shopping areas like Arborland and Huron Village, home to anchors Whole Foods and Barnes and Noble.
When the original developers, Bill Conlin of Ann Arbor and Gordon Mathews, assembled the property, it was positioned as one of the highest-profile retail redevelopment sites in Washtenaw County. Multiple national retailers expressed interest in locating there.
Mathews' death and subsequent estate settlement stalled the process. Then the early stages of the economic downturn further changed the original financial projections.
Now real estate sources predict the land could be sold for as little as half of the asking price.
It's unclear so far what type of use the potential buyers will seek for the property if the deal closes. The original site plans included retail, residential and parking components.
"We may or may not see a site plan submitted for the project within the next few months," said city planner Jeff Kahan.
The property includes a former car dealership, which comprises the largest portion of the site. Some sources said the pending deal could be just for that part of the site.
The property also includes vacant buildings - including a former Stucchi's, which remains on land lease - all the way to the corner of Platt Road.
Paula Gardner is Business Director for AnnArbor.com, where she covers real estate and development. Contact her at 734-623-2586 or by email.