Posted on
Fri, Dec 23, 2011 : 5:59 a.m.
Ann Arbor toy store options dwindle in fight against big-box stores, Internet, regulations
By Nathan Bomey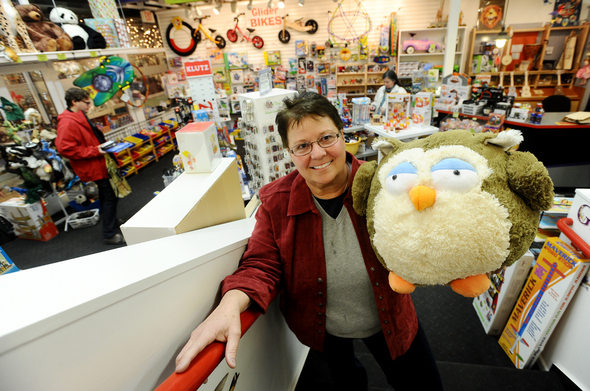 Melanie Maxwell | AnnArbor.com
Industry challenges are piling up for independent toy stores in the Ann Arbor area.
As the 2011 holiday shopping season draws to a close, the list of local toy shops is set to get even smaller after Tree Town Toys announced that it would close its Plymouth Road store around the end of the year.
The Internet has been cutting into sales at independent toy stores for years — but now big-box stores are selling some specialty toys at rock-bottom prices, presenting an additional challenge, said Tree Town Toys co-owner Hans Masing. Meanwhile, federal regulations have reduced the number of toy manufacturers that can sell their products in the U.S., reducing the options for independent stores, he said.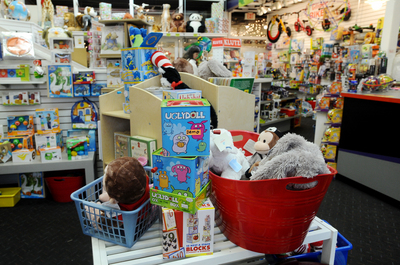 Melanie Maxwell | AnnArbor.com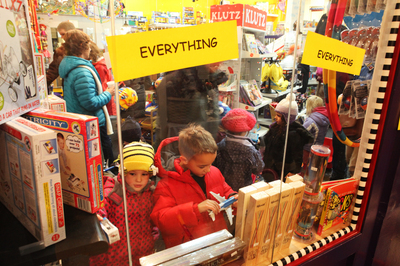 Jeff Sainlar | AnnArbor.com
Masing described Tree Town Toys as a "viable business," but said he and his wife and co-owner Tricia Masing opted to give up the 18-hour work days they were enduring.
Instead, they will focus on their separate business, a toy fulfillment and warehousing service called DragonFlyDepot.com, and likely online sales through TreeTownToys.com.
Masing acknowledged that sales had declined over the last few years. One of the most aggravating developments, he said, was that big-box competitors are starting to carry specialty products at low prices. For example, Walmart recently began carrying a line of animal figurines made by a European company called Schleigh.
"They're at Walmart cheaper than I can buy them," Masing said. "I can't compete against that."
Meanwhile, some European manufacturers stopped shipping specialty toys to the U.S. after the passage of the Consumer Product Safety Improvement Act of 2008 while some U.S. manufacturers could not keep up with the additional safety regulations, Masing said.
"We've lost a lot of products that really did make us special," he said.
Jan Benzinger, co-owner of the Mudpuddles toy store in Ann Arbor's historic Kerrytown district, said big-box stores' push into specialty toys is "definitely an issue."
"A lot of times I will find things at Target for less than we pay for them, so we just immediately drop those companies," Benzinger said. "For us, those are unfair business practices. You just shouldn't do that to your stores, sell them for so much less to the big-box store. It really does hurt the little guy."
Benzinger said her shop was still able to obtain most of the products it wants to sell, although at least one European manufacturer, Selecta, stopped shipping to the U.S. after federal regulations stiffened.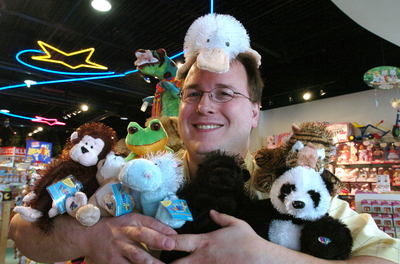 File photo | AnnArbor.com
"We didn't find that to be too much of a problem for us," she said.
Local toy retailers said the challenges mean that customer service is more important than ever. Shops like Ashley Street's Lexi's Toy Box and Felch Street's Palumba, which sells "natural" toys under the Camden Rose brand, are finding success by catering to a niche customer base.
Kathleen McHugh, president of the Chicago-based American Specialty Toy Retailing Association, said big-box stores can't offer the customer service that consumers can find at a small local toy shop.
"Specialty products are really hard to sell without somebody explaining them and knowing about them and knowing their right age-range," McHugh said.
About 20 percent of American consumers planned to visit a toy store for the holiday shopping this season, according to a study by the NPD Group.
NPD found that about 31 percent of consumers planned to buy toys during the 2011 holiday shopping season, down from 32 percent in 2010. The National Retail Federation put the figure at 43.1 percent in 2011.
Online retailers present a major threat to local toy stores, but that's nothing new. Local shops are also used to dealing with a tough economy in Michigan.
That's not new either, but Masing suggested that the economy is worse than it looks. Although the state's employment rate fell to 9.8 percent in November, a federal measure of "total unemployment" — which includes people who are underemployed — is currently 19.2 percent in Michigan.
"That's one out of five," Masing said. "That's a substantial portion of our economy. So folks have to be bargain driven right now, and the cost of operating a brick-and-mortar store and providing training and customer service and all of the things that are necessary to provide a top-notch shopping experience are more and more difficult."
Benzinger suggested that an additional hurdle facing Tree Town Toys was Pfizer Inc.'s 2007 announcement that it would close its 174-acre research campus on Plymouth Road, displacing more than 2,100 workers.
"I do think they relied a lot on the Pfizer people," she said. "I would imagine that hurt them a lot."
She said Mudpuddles is enjoying a "pretty super holiday season" despite the challenges but acknowledged that it could be partly because of the store's location in Kerrytown.
"Kerrytown is kind of a jewel of Ann Arbor," she said. "I think Ann Arbor itself is a little bit of a bubble, but then I think Kerrytown is a bubble within Ann Arbor."
Regardless of the store, retailers are genuinely working harder than ever, McHugh said.
"Retail is very tough right now and if you're not committed to it 150 percent, it's not going to work for you," she said. "We had early indications … things were on track for a very good holiday for independent retailers, but that doesn't mean they haven't had to work very hard for it.
"They're working harder, but hopefully the results will be there by the end of the year."
Tree Town Toys, whose lease was set to expire by the end of the year, opened in 2006 as an outgrowth of a website called BrainStationToys.com.
But over time, the Masings' Jackson-based warehousing business became more lucrative — and running the physical Tree Town Toys store took up too much time and cash.
"It's frankly turned into 18-hour days," he said. "We have kids and we want to actually participate in physically growing up with them. Something had to give."
Contact AnnArbor.com's Nathan Bomey at (734) 623-2587 or nathanbomey@annarbor.com. You can also follow him on Twitter or subscribe to AnnArbor.com's newsletters.