Posted on
Mon, Dec 19, 2011 : 11:45 a.m.
Tree Town Toys to close Ann Arbor store, go online only
By Nathan Bomey
File photo | AnnArbor.com
(This story has been updated several times.)
Tree Town Toys, a specialty shop located in the Traver Village Shopping Center on Plymouth Road, plans to close its physical store and operate only online.
The store, owned by Hans and Tricia Masing, opened in August 2006 and briefly operated a second location at Briarwood Mall.
Tree Town Toys earlier this year struck a partnership with Rider's Hobby Shop, which was set to close its store on Carpenter Road. Instead, Rider's moved into the same space as Tree Town Toys, placing two distinct local brands under one roof.
Brent Martin, owner of the Rider's store, said he hopes to continue operating his shop and is already in discussions with Ann Arbor-based landlord First Martin Corp.
Tree Town Toys, whose lease was set to expire Dec. 31, expects to close around the end of the year. (See the company's letter to its customers here.)
"Retail is a different business right now as anybody in retail will tell you, but the business is certainly viable," Hans Masing told AnnArbor.com. "It comes down to: We can't give it the nurturing that it needs to thrive right now."
The Tree Town Toys owners plan to focus on their Jackson-based business, a separate legal entity called DragonFlyDepot.com, a warehousing business that provides toy fulfillment and logistics to national charitable organizations and 40 stores throughout the country.
Masing said the store plans to continue fulfilling orders through TreeTownToys.com for now.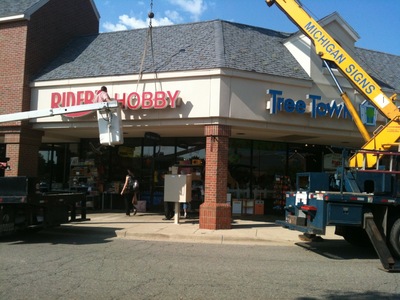 Photo from Hans Masing
"We don't see why not right now," he said. "It all depends on whether we keep our brand alive. We hope to obviously because it's pretty well known."
Masing said he and Tricia were becoming overwhelmed with the amount of work it took to maintain Tree Town Toys' physical store, its online store, DragonFlyDepot.com and Hans' separate information technology consulting.
"It's frankly turned into 18-hour days," he said. "We have kids and we want to actually participate in physically growing up with them. Something had to give."
Masing said the partnership with Rider's Hobby Shop — which is subleasing half of the space within the Tree Town Toys store — did not contribute toward the closure of his store.
Martin, owner of Rider's Hobby Shop, which had been planning to close before it reached a deal with Tree Town Toys, described the relationship as cooperative and mutually beneficial.
"Definitely at this time our plan is to keep going," Martin said. "The move has worked out well for us. Our customers are finding us more and more."
Tree Town Toys has eight employees. Hans said he was "working to keep as many of them with the DragonFlyDepot side as we can," although "many of them are students and they don't want go to Jackson and that's fine."
Masing acknowledged that Tree Town Toys' physical store has experienced in a decline in sales over the last couple years. He said the store faced a number of obstacles:
--Michigan's tough economy. Although the state's employment rate fell to 9.8 percent in November, a federal measure of "total unemployment" — which includes people who are underemployed — is currently 19.2 percent in Michigan.
"That's one out of five," Masing said. "That's a substantial portion of our economy. So folks have to be bargain driven right now, and the cost of operating a brick-and-mortar store and providing training and customer service and all of the things that are necessary to provide a top-notch shopping experience are more and more difficult."
--Federal regulations. Masing said the Consumer Product Safety Improvement Act of 2008 implemented stiff toy safety standards that forced many niche European brands to stop shipping products to the U.S. and forced small U.S. manufacturers out of business.
"That was some legislation put into place to make sure toys sold to kids are safe. That's so important. We've always made sure we've had safe toys," Masing said. But "the legislation ensured that only the largest manufacturers could survive. So we lost a number of brands."
--Big-box competitors are carrying specialty products at low prices. For example, Walmart recently began carrying a line of animal figurines made by a European company called Schleigh.
"They're at Walmart cheaper than I can buy them," Masing said. "I can't compete against that. So we cut the line, find something that's a little more esoteric."
Masing said he and Tricia reached their decision on Friday, informed Martin on Friday and told employees today. He described the decision to close as something they've been considering for a while.
"This isn't a Friday evening over a couple of drinks, 'Hey let's close the store,'" he said. "It's been on our minds for a bit as we looked at whether we want to renew the lease."
Martin said he "was surprised just as much as everybody else" of Tree Town Toys' decision to close, "but our intention is to find a way to make this work."
Tree Town Toys, wwhich opened its physical store in 2006 after being online only, quickly became ingrained in the local business community.
In a particularly memorable moment in 2010, the store organized a shopping spree for a 7-year-old girl with Huntington's disease who had been cyber-bullied by her neighbors.
"If we're going to make her a princess for a day, let's make her a real princess," Hans Masing said at the time. "I want hundreds of people cheering her on. Let's throw rose petals. Let's make her understand this is all about her — her day of a lifetime."
Contact AnnArbor.com's Nathan Bomey at (734) 623-2587 or nathanbomey@annarbor.com. You can also follow him on Twitter or subscribe to AnnArbor.com's newsletters.