Posted on
Sat, Oct 27, 2012 : 5:55 a.m.
Cherry Republic wants to add wine tasting to downtown Ann Arbor store
By Lizzy Alfs
A year and a half after Cherry Republic opened a store in downtown Ann Arbor, hundreds of customers are still asking the same question: where's the cherry wine?
The company — a Glen Arbor-based retail chain that sells cherry-themed items — has wine tasting programs at its Glen Arbor and Traverse City stores, where customers can sample 10 different cherry wines for free and purchase bottles.
"People who come up (north) in the summer have gotten used to us having wines in our store," said Jason Homa, Cherry Republic's Vice President of Sales.
"It's the number one requested product from us in the Ann Arbor market from the things we haven't offered."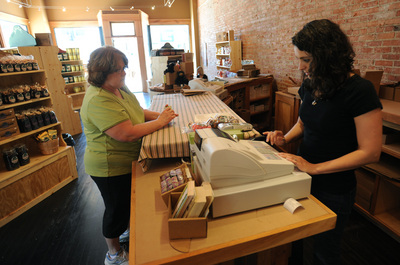 Melanie Maxwell | AnnArbor.com
When the Ann Arbor store opened on the corner of Main and Liberty streets in May 2011, the company intended to incorporate wine tasting at some point. Homa said they applied for a liquor license last fall and have been waiting on approvals.
After the city of Ann Arbor's Liquor License Review Committee recommended approval for a request last week for the wine tasting room, the license will now go before city council and then Michigan's Liquor Control Commission for final approval.
Homa said his hope is that the store can sell cherry wines in time for the holiday season shopping rush.
Cherry Republic's business model centers on generosity — giving away thousands of dollars in samples at each store — and Homa said the wines are no different.
Wine only accounts for about 10 percent of the business' total sales, he said, but it's more about the experience.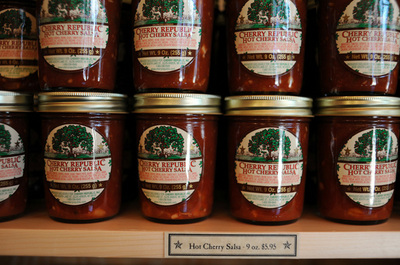 Melanie Maxwell | AnnArbor.com
"The customer base (in Ann Arbor) would really like something like a tasting room from a Michigan winery," he said. "I think, for people when they come to our stores, they want as much out of it as possible.
"(Wine tasting) really rounds us out."
Homa said the wine tasting bar will be located at the rear of the Ann Arbor store, where there is some extra space. The store will also offer soda tasting for kids to make it a "family first" environment.
Since the company has found a tremendous amount of success in Ann Arbor, Homa said expanding or opening an additional store downtown isn't out of the question.
"One of the challenges being where we're at in Ann Arbor, is that the store is beautiful, but it's small," he said. "We may look to add another spot on Main Street or on Liberty at some point that would be a tasting room."
He added: "The first holiday season (in Ann Arbor), it was our busiest storefront of all of our stores. We've been really well received down there."
Lizzy Alfs is a business reporter for AnnArbor.com. Reach her at 734-623-2584 or email her at lizzyalfs@annarbor.com. Follow her on Twitter at http://twitter.com/lizzyalfs.