Posted on
Tue, Oct 12, 2010 : 5:18 p.m.
Chinese official: intellectual property is safe in partnership with University of Michigan
By Nathan Bomey
A top Chinese university executive offered her assurance today that technology developed through a new partnership with the University of Michigan would be shared properly through an intellectual property agreement negotiated by the two universities.
U-M executives and officials from Peking University today met in Ann Arbor to sign an agreement officially establishing a joint institute to pursue medical technologies.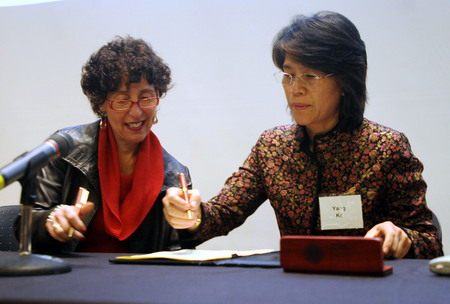 Angela J. Cesere | AnnArbor.com
The agreement between the U-M Medical School and Peking University Health Science Center will include collaborative research projects, clinical trials and exchanging of faculty scientists and doctors. Both universities will contribute $7 million to fund the institute.
The agreement comes as concerns are mounting about academic integrity in China. The New York Times last week published a report detailing "rampant fraud" in China's academic world and citing a survey in which 55 percent of 32,000 Chinese scientists said they knew someone who had committed academic fraud.
Yang Ke, executive vice president of Peking University, said in an interview that Peking researchers would be "following the international standard for the IRB," apparently a reference to institutional review boards. She said the intellectual property agreement between U-M and Peking is firm.
"I think that's one of the most special part of our collaboration, because at the beginning, at the very beginning, we talk about the intellectual properties," she told AnnArbor.com without a translator. "We have to follow the rule, both parties have to follow the rule."
Yang made her statements after executives from both universities celebrated the establishment of the joint institute in an event this afternoon at U-M's Biomedical Science Research Building. A contingent of 18 researchers and leaders from Peking University visited U-M today as part of the festivities.
"For those of you who are wondering why would we pursue global partnerships like this one, the answer is really simple. I cannot think of one thing that we do or one success that we have had, as a university or as a health system, that doesn't require teamwork or collaboration," said Ora Pescovitz, U-M Medical School's executive vice president for medical affairs and CEO of the U-M Health System.
She added: "If we want to fulfill the University of Michigan Medical School's vision of creating the future of medicine, if we want to become a global leader in medicine, we must deepen our understanding of disease and its impact, not only on individuals and communities but on nations worldwide. To do that successfully, we must invite global perspectives. We must invite global ideas into our laboratories and into our offices."
The life sciences research between the two universities will aim for scientific breakthroughs in medicine to treat pulmonary, cardiovascular and liver diseases.
For U-M, access to Peking's sprawling health care operation is particularly valuable. Peking's medical facilities have 6,688 beds, complete 32,431 daily outpatient visits and report 1,810 daily emergency room visits. U-M has 930 beds, 6,411 daily outpatient visits and 319 daily ER visits.
Some 19 U-M Medical School departments were already collaborating with 31 Chinese universities on various research projects. U-M also has a joint research institute with Shanghai Jiao Tong University, where engineers and scientists are conducting clean energy and biosciences research.
Among the activities expected to occur at the joint institute with Peking University, U-M researchers will help Chinese researchers improve their ability to conduct rigorous clinical trials, for example.
"We have not been very strong in that area in the University of Michigan," Yang said in an interview. "You have better experience than us."
Contact AnnArbor.com's Nathan Bomey at (734) 623-2587 or nathanbomey@annarbor.com. You can also follow him on Twitter or subscribe to AnnArbor.com's newsletters.