Posted on
Tue, Jun 29, 2010 : 10:36 a.m.
University of Michigan awards $1.2M for clean energy, biomedical research projects with Chinese university
By Nathan Bomey
The University of Michigan today released details about its first joint engineering research projects with China's Shanghai Jiao Tong University.
U-M and SJTU scientists and engineers will pursue a variety of biomedical and clean energy projects aimed at developing technology commercialization opportunities and attracting additional grants from governments and businesses.
The university also said that the projects would seek to develop technologies to fight climate change and improve global health.
The announcement coincides with U-M President Mary Sue Coleman's trip to China, where she is visiting U-M's Joint Institute with SJTU and meeting with other officials to solidify relationships with various Chinese institutions.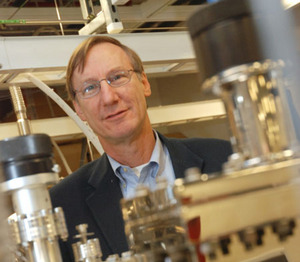 File photo | AnnArbor.com
"The research strengths of our two universities are quite complementary, so we are well-matched to work together on some of the grand challenges facing humanity," U-M Vice President for Research Stephen Forrest, who is also visiting China, said in a statement. "The globalization of research is beginning to transform the way big problems are tackled, and the University of Michigan will be at the forefront of this emerging trend."
U-M and SJTU announced in March that they would spend $3 million apiece over the next five years to fund the project.
The universities today selected six projects from a list of 39 proposals to receive $200,000 each. The projects involve a variety of technologies:
--Lithium-air batteries, which researchers hope could one day allow electric vehicles to operate at the same cost and efficiency as internal combustion engine cars.
--Hybrid solar cells based on carbon nanotube enhanced nanostructures, technology that would improve the performance of photovoltaic solar panels.
--Building facade systems that would collect solar energy, generating a more energy-efficient structure.
--Diagnostic instrument that would use "microfluidic nanophotonic sensors" to detect cancer indicators in blood samples.
--Advanced endoscopic stitching devices.
--"Acoustic droplet vaporization" to improve high-intensity focused ultrasound treatments.
The initiative comes as the United States and Chinese governments are in the early stages of an agreement announced last summer that established the U.S. China Clean Energy Research Center. The U.S. government in March committed $37.5 million to the project, and China is expected to do the same, according to the Energy Department. All research projects must be matched with outside funding, making it a $150 million initiative.
U-M is hoping that the joint project with SJTU could help the university win a leadership role in the U.S. China Clean Energy Research Center. The Energy Department has said that the initiative will involve the establishment of joint headquarters at locations in each country.
"Because of our existing research partnerships with SJTU, the University of Michigan is perfectly positioned to lead this binational consortium, which would conduct breakthrough research and development impacting three of society's grand challenges: climate change, energy security and environmental sustainability," Forrest said.
The initiative deepens the relationship between SJTU and U-M despite recent uncomfortable publicity for SJTU. Earlier this year, federal investigators reportedly linked SJTU computers to an international hacking incident in which Google and other American companies reported a breach of security.
But U-M has said that it would not alter its relationship with SJTU unless additional information surfaces showing that SJTU was complicit in the hacking incident. Experts have said it's difficult to conclusively identify where the cyber attacks originated.
Contact AnnArbor.com's Nathan Bomey at (734) 623-2587 or nathanbomey@annarbor.com. You can also follow him on Twitter or subscribe to AnnArbor.com's newsletters.