Posted on
Tue, Jan 25, 2011 : 4:42 p.m.
Citizens Bank will move downtown Ann Arbor branch to 350 S. Main
By Paula Gardner
Citizens Bank plans to move from one block of downtown Ann Arbor to another in mid-March following the expiration of its long-time lease.
The bank will move to the first floor of 350 S. Main, the MAV Development mixed-use building at the northwest corner of South Main and West William.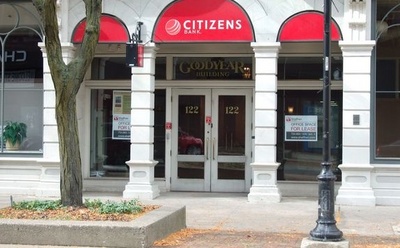 AnnArbor.com files
Citizens Bank fills the final retail vacancy in the building, which at one time was home to both Renaissance Clothing and Made in Michigan.
Now Citizens Bank will join Raymond James in the building's ground-level retail space, where the financial services firm recently expanded.
The move toward financial services in the property is a good fit for the building and the block, said MAVD's Jeff Harshe. The location is on the edge of downtown's popular restaurant district.
"We were approached by a lot of restaurants that would have loved to have taken the whole floor," Harshe said. "Our belief was it wasn't the right direction for the area or our building."
For Citizens Bank, the change means an updated branch office with increased access to nearby parking for customers, said spokesman Brian Smith.
"We're excited that we have this opportunity," Smith said.
Citizens Bank had been located at 122 S. Main since 1997. Landlord Ed Shaffran announced the space would be available in the fall as the bank explored other downtown alternatives.
Meanwhile, a second Citizens location in Ann Arbor on South Main Street at Ann Arbor-Saline Road will remain open, Smith added.
The four Citizens employees at the existing downtown office will make the move to the new, 5,800-square-foot location. Additional space will be used for a conference room and also work stations for commercial lenders who need to meet clients downtown, Smith said.
The buildout will include some specialty equipment, like secured vault areas, Smith said. A walkup ATM also will be added to the new location.
The move is scheduled for March 22, when the offices will close at 2 p.m. The new office will open March 23.
Citizens Bank is operated by Flint-based Citizens Republic Bancorp.
Paula Gardner is Business News Director of AnnArbor.com. Contact her at 734-623-2586 or by email. Sign up for the weekly Business Review newsletter, distributed every Thursday, here.