Posted on
Fri, Jan 11, 2013 : 5:59 a.m.
City officials: 6 blighted houses on Ann Arbor's North Main will be demolished using HUD funds
By Lizzy Alfs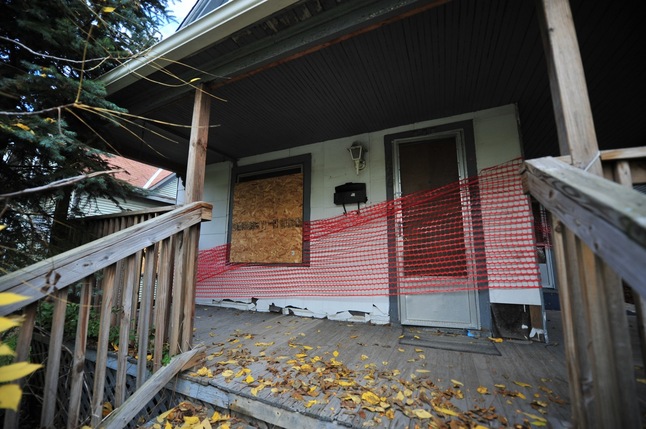 Ryan J. Stanton | AnnArbor.com file photo
After seven years of meetings, several project rebirths and finally a
mortgage foreclosure
, Ann Arbor city officials said on Thursday that six dilapidated houses on North Main Street will be demolished using federal funds.
The U.S. Department of Housing and Urban Development, via its Neighborhood Stabilization Program, has allocated $96,000 to the city of Ann Arbor to demolish most of the houses that were supposed to be torn down by the developers of the proposed Near North development.
"All the parties involved have acknowledged they would like to see the buildings demolished," Kevin McDonald of the Ann Arbor city attorney's office told Ann Arbor's Building Board of Appeals on Thursday.
"This was going to be the fastest way, really, to get the buildings demolished so they don't have to be an eyesore to the community."
The eight houses from 626-724 N. Main St. are owned by a limited partnership between Ann Arbor for-profit developer Three Oaks Group and nonprofit Avalon Housing. County records show Three Oaks purchased the properties under various entities over the course of eight years for about $2.5 million.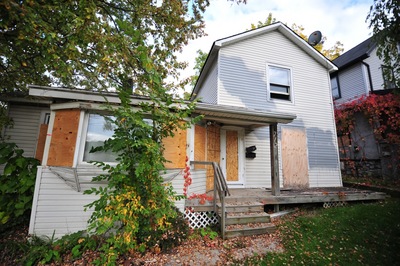 Ryan J. Stanton | AnnArbor.com file photo
Until September, the groups were intending to build an affordable housing apartment complex called Near North. The project was canceled entirely when the developers lost financing, largely due to a change in the Federal Emergency Management Agency's floodway boundaries last year.
The Near North property is now in a six-month redemption period after the lender, Great Lakes Capital Fund, foreclosed in November. Carole McCabe of Avalon told AnnArbor.com this week that the group is cooperating with the city, but isn't able to demolish the houses.
At the Building Board of Appeals meeting on Thursday, chief development official Ralph Welton said six of the houses, from 700-724 N. Main St., are dangerous buildings and need to be demolished. Normally, property owners come to the show cause hearing and make a case against demolition or state their intention for the site.
No one with Three Oaks or Avalon Housing spoke at Thursday's meeting, and Welton said the groups intend to waive all proceedings and admit the buildings are dangerous. Once the city gets a signed waiver from all the interested parties — which is expected to happen by next week — the city can move forward with demolition using the $96,000 in HUD funds. The funds are available until March 15.
If the demolition cost exceeds the HUD funds, the city would use money from its $250,000 blight fund and put a lien on the property.
"We looked for a solution that allows us to move forward despite the difficulties with foreclosure and possible transfer of ownership," McDonald said.
Two people spoke during the public hearing portion of the meeting on Thursday who said they'd like to see the dilapidated structures demolished as soon as possible.
"It's been a long process…it's created a lot of difficulty and it is dangerous," Margaret Schankler, a nearby resident, told the board.
Samuel Callan, a member of the board, expressed concern over what will happen with the property once the houses are demolished, and also asked why the houses fell into a state of disrepair in the first place.
"Those were fine houses," he said. "I don't understand why they were put into a state of disrepair…if you knock the houses down, who owns the property and what is going to be built here?"
Board members also noted that two of houses, 626 N. Main and 630 N. Main, are not being demolished at this time and the condition of those structures could worsen. Welton said the property owners have been instructed they must maintain the houses in a safe state.
Senior Assistant City Attorney Kristen Larcom said the city isn't aware of any future plans for the site. About 50 percent of the property is now in the floodplain, making future development very difficult.
"It would just be vacant property until somebody else proposes to either, (build Near North), or ask for rezoning and propose another project. The bottom line is they're going to be starting with a property with no dangerous buildings on it."
Lizzy Alfs is a business reporter for AnnArbor.com. Reach her at 734-623-2584 or email her at lizzyalfs@annarbor.com. Follow her on Twitter at http://twitter.com/lizzyalfs.