Posted on
Sat, Sep 1, 2012 : 3:09 p.m.
Development team cancels plans for Near North affordable housing project in Ann Arbor
By Ryan J. Stanton
The Near North development and the 39 affordable housing units it promised to bring to Main Street — just north of downtown Ann Arbor — won't be going forward now.
In a letter sent to Ann Arbor officials on Friday, Avalon Housing's senior developer Michael Appel explained the reasons behind the development team's decision.
"A combination of factors — including tax and regulatory changes, financing timeline constraints, and the challenges of balancing complex site work with cost containment efforts — led to our decision that the project was no longer feasible as planned," the letter reads.
Ryan J. Stanton | AnnArbor.com
The City Council approved the project nearly three years ago, and for a while it was expected to break ground in early fall 2010, but there were repeated delays.
The apartments, designed for low-income residents, were to take the place of a row of eight boarded-up houses that currently welcome visitors to Ann Arbor from the north. City officials say they still intend to move forward with demolishing the houses soon.
"It's disappointing because the project, as it was conceived, really would have provided an excellent welcoming site to Ann Arbor from the north," said Council Member Tony Derezinski, D-2nd Ward.
"We were really hoping that could eventually tie into some of the other projects going on to beautify that entrance to the city," he said. "This was a major part of it with a beautifully conceived building complex with residential use, which would take the place of some very dilapidated structures."
Derezinski said hopefully a project of the same quality will take its place. He said it's hard to say how long it might be before something else could happen on the property.
"I have a feeling, though, with a lot of other projects that are going now, that someone will come along and see the value of that area," he said.
City Council Member Sandi Smith, D-1st Ward, said Near North's demise is sad, but it gives more strength to an affordable housing proposal she'll be bringing to council on Sept. 17.
The proposal, which the Downtown Development Authority is expected to chime in on at its meeting on Wednesday, calls for transferring proceeds from the sale of city-owned properties downtown to the city's housing trust fund to help with future affordable housing efforts.
"It is extremely challenging to build affordable units in the downtown or in the near downtown and we need to address our policies and really look at it and find a better way," Smith said. "We are having tremendous difficulty building affordable units in or near the downtown."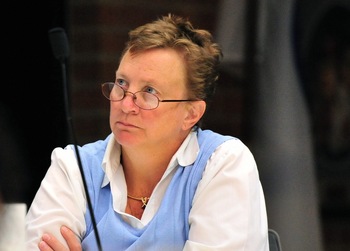 Ryan J. Stanton | AnnArbor.com
Smith said she understands there is some resentment from neighbors that the development team let the eight houses fall into a state of extreme disrepair over the last several years while they tried to make the Near North project work. Now those houses are lost.
"There was housing already there that was affordable," Smith acknowledged. "But it really was not quality housing stock. Avalon is trying to bring quality affordable housing to the city."
Appel explained in his letter to city officials that affordable and supportive housing projects typically have complex financing structures that involve multiple funders and regulatory agencies.
"For Near North, the challenge of bringing these funding sources together proved impossible within the timeframe allowed by our tax-credit financing," he said.
Appel said changes in the Federal Emergency Management Agency's floodway boundaries earlier this year dealt a major blow to the project, making it ineligible for essential federal affordable housing funds and leaving a financing gap that could not be addressed within the completion deadlines.
"We are aware that the project's delays have raised community concerns, and greatly appreciate the patience and cooperation of our partners at the city of Ann Arbor, Washtenaw County, and especially the neighbors of Near North," the letter reads. "At this point we are cooperating with the city's efforts to remove the houses on the site, and will continue to work with local and state government and other partners to explore alternative development options for the site."
Appel said Avalon Housing, which partnered with Three Oaks Group on the project, remains committed to expanding the availability of affordable housing in the community and looks forward to being involved with future efforts in that regard.
As for the prospect of the property remaining vacant for the foreseeable future after the houses demolished, Smith said it's better than what's there now.
She noted the project sits across from 721 North Main, a city-owned property the city hopes to eventually transform into a greenway park. Smith is a council representative on a new task force that is looking at ways to improve the North Main corridor and connect it with the Huron River.
"I'm very sensitive and aware of that corridor," Smith said, expressing hope that good things are yet to happen along North Main Street.
Ryan J. Stanton covers government and politics for AnnArbor.com. Reach him at ryanstanton@annarbor.com or 734-623-2529. You also can follow him on Twitter or subscribe to AnnArbor.com's email newsletters.