Posted on
Sun, Aug 26, 2012 : 5:57 a.m.
Cole Taylor Mortgage is hiring, expanding at Ann Arbor headquarters
By Lizzy Alfs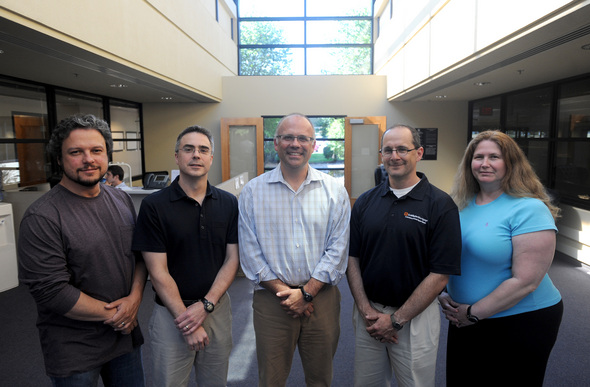 Angela Cesere | AnnArbor.com
Editor's Note: This article has been changed to correct the number of job openings at Cole Taylor Mortgage.
It's been eight months since Cole Taylor Bank moved its mortgage banking division's headquarters to Ann Arbor, and the company — fueled by increased mortgage market share and improved margins — is significantly growing.
More than 250 employees now staff the office in the Northeast Corporate Center on Green Road, up from 115 employees when the division moved from Hamburg Township last year.
"We grew very significantly between 2011 and early 2012," said Cole Taylor Mortgage President Willie Newman. "In November, sections of our space had no (cubicles), now you go in there and you can barely walk around."
Newman spearheaded the launch of the mortgage unit for the Chicago-based bank in December 2009, right in the midst of the U.S. housing market meltdown.
His strategy: Enter the market at the bottom, not the top.
"We thought there was an opportunity for something to start up and start clean," Newman explained. "It's a clean sheet with none of the legacy issues, no old technology, no loans, delinquencies or the issues people read about."
Since the launch, the unit has managed to significantly increase its revenue on a quarterly basis.
According to Taylor Capital Group Inc., the corporate parent of Cole Taylor Bank, mortgage banking revenue was $26.8 million in the second quarter of 2012, a 34 percent increase over the first quarter of 2012, and a 143 percent increase over the fourth quarter of 2011.
Mortgage origination volume grew from $782 million in the fourth quarter of 2011 to $960 million in the second quarter of 2012.
The division is now originating mortgages in 32 states through a network of mortgage brokers and its own retail network, which includes a retail office at 1328 South Main St., in Ann Arbor.
And in June, Cole Taylor announced its plans to hire 60 new retail mortgage professionals from Amera Mortgage in Michigan, Indiana and Ohio in an expansion of its retail network.
To accommodate the rapid growth at the Ann Arbor headquarters, the division recently signed a lease to double its office space in the Northeast Corporate Center.
At 55,600 square feet, Newman said there will be room in the expanded office to continue hiring as the unit works to diversify its income sources and grow originations.
The division still faces its challenges: as a small player in the mortgage banking industry, Newman said it can be difficult finding the right talent in the competitive southeast Michigan market.
It's also a highly variable business that's dependent on interest rates, he said, which is why the company is working to diversify its income sources.
"We have challenges in finding the skill," he said. "No one graduates with a degree in mortgage banking. The Metro Detroit area has a lot of competition, so sometimes we're all competing for the same resources."
To help bridge that gap, Cole Taylor Mortgage recently launched an evening shift program intended for college students or recent graduates. The program runs Monday through Friday from 6 p.m. to 11 p.m.
More than 30 people currently staff the program, which helps carve off some of the clerical work for other employees, Newman said. It also provides entry into a difficult industry.
"What we're trying to do is give younger people an idea that this might be fun," he said. "We believe it's innovative and taking advantage of the (Ann Arbor) community."
Cole Taylor Mortgage currently has 93 job openings, including more than 60 in Ann Arbor. Newman said he expects the division will continue to grow organically.
"We're pretty excited about what we've done," Newman said. "We have a strong group of people contributing to the success of the team."
Job postings can be found at www.coletaylor.com/careers.
Lizzy Alfs is a business reporter for AnnArbor.com. Reach her at 734-623-2584 or email her at lizzyalfs@annarbor.com. Follow her on Twitter at http://twitter.com/lizzyalfs.