Posted on
Thu, Aug 5, 2010 : 6 a.m.
Coming soon: New bar in former Studio 4 building in downtown Ann Arbor?
By Paula Gardner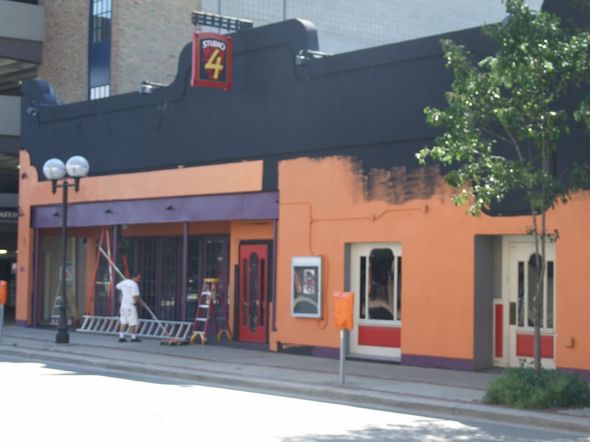 Paula Gardner | AnnArbor.com
It's clear something is happening at the former Studio 4.
But what that is appears to be a secret no one involved wants to share.
I stopped by the shuttered downtown Ann Arbor bar on Wednesday afternoon in a final attempt to ask the people doing work onsite for an explanation. I'd been asking others about the situation for much of the week.
Instead of finding the answer, I was thrown out of the bar.
A man I talked to briefly on Monday was sitting inside, viewing a laptop computer. He said he's overseeing the painting of the building - after denying he's the ex-operator of Studio 4 - then said he wouldn't answer any of my questions. And he told me I had to leave.
He said his instructions were: "Don't say nothing to nobody," urging me toward the door.
He told me to call Dennis Serras, co-owner of Ann Arbor's Mainstreet Ventures.
Yet I've also been told that Serras is out of the country- and that nothing going into that space has a connection to Mainstreet Ventures restaurants.
But that's just about all that I've discovered this week since spotting crews painting the formerly black building on South Fourth Avenue early on Monday.
Except for a job posting on Craigslist: Someone is looking for bartenders, security, servers and "shot girls" to work at what they're calling Dream Nite Club in Ann Arbor - same address.
No business is registered under that name with the state, according to its website as of late Wednesday. The job posting promises that it's "opening soon."
Meanwhile, the building is now partially orange, with the windows trimmed in purple.
Beyond those visible details, I only have a few more clues about what's happening at the formerly troubled bar.
That's after multiple visits to the property, many phone calls to people previously connected to it, and what seems like endless unreturned phone calls.
In most cases, I'd wait to report on it until I was told something definitive.
But with this property - given the profile of the location, lawsuits by the city and many visits by the police department when it was open - I'll share what I've learned in the hopes that someone knows more and will disclose it.
The reason: Ann Arbor deserves to know what's coming into the location.
Studio 4 closed on June 4. The city was trying to get a receiver appointed to run the business because officials considered it a public nuisance; that lawsuit is still pending. At the same time, litigation among business entities involved resulted in a $324,000 judgment against the operator of the bar, VR Entertainment, and the owner of the liquor license also faced a lawsuit about unpaid bills.
Here's my latest rundown on the key players:
• VR Entertainment was operated by Vikash Mangray, and his phone number has been disconnected since the bar closed. The man I spoke to today denied he's Mangray.
• The owner of the liquor license used by Studio 4 is Papa Chulo's Inc. City officials said they just received notice from the state that Papa Chulo's wants to transfer the license from the building.
Demos Panos, a partner in the entity, confirmed that. "We're getting back the liquor license," he said.
Anyone operating a bar in the Studio 4 building will have to get a new license.
But who is going to operate in that building?
Panos said he's been told it's an entity related to Mangray or his family.
• The leaseholder of the building is Maude's Restaurant, part of the Mainstreet Ventures group.
However, any new entity coming into the building is not a Mainstreet Ventures operation, said executive Kevin Gudejko.
• The building is owned by Dean Zahn Properties of Saline. Registered manager Matthew Zahn did not return several phone calls requesting comment about the changes on site.
Kristen Larcom, the city attorney who filed suit against Studio 4, said she wasn't aware of changes to the building or another entity coming in to operate it.
She's now looking into it, too.
"Obviously we're concerned that this doesn't return to the same problem," she said.
On the outside, the new look of the bar is distinctive.
But it appears Ann Arbor will have to wait a bit to see if anything changes inside the operation.
Paula Gardner is Business News Director of AnnArbor.com. Contact her at 734-623-2586 or by email. Sign up for the weekly Business Review newsletter, distributed every Thursday, here.