Construction work continues on Zingerman's Deli expansion project in Ann Arbor
Posted on Fri, Jul 1, 2011 : 11:16 a.m.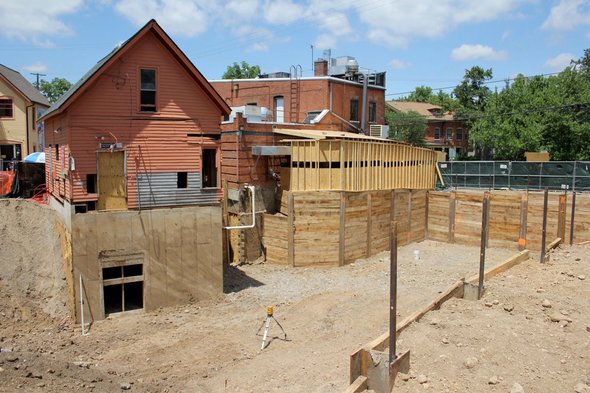 Photo by Hannah Metler

Construction work on the Zingerman's Deli 10,400-square-foot addition is making headway, as the owners plan to have the majority of the project completed by summer 2012.

Grace Singleton, one of the deli's managing partners, said that recent work to the site included building an underground soil retention system, which has left a giant hole behind the deli at 422 Detroit Street.

Chris Love of Phoenix Contractors of Ypsilanti Township, the project manager for the construction effort, said in a previous report that the hole is the "most visible change" people will see at the site for a while.

Previous work to the site this year has included demolishing a fire-damaged house on East Kingsley Street and moving the orange Annex building to demolish the patio.

Next up for the $6.7 million construction project: installing underground plumbing and putting in the foundation for the new building, said Singleton.

"Once we put the foundation in, then we'll start to pour walls and start filling in the building," Singleton said. "Probably in late fall we'll have the walls of the new building up."

Singleton said that the majority of the project is still set to be completed by summer 2012, and she hopes for a temporary certificate of occupancy by June of next year.

However, then the two buildings will need to be connected and renovations will be made to the inside of the new deli, she said.