Posted on
Wed, Mar 9, 2011 : 12:26 p.m.
Corner Brewery in Ypsilanti seeking OK for expansion to allow increased beer production
By Paula Gardner
Ypsilanti's Corner Brewery is poised to grow this year, thanks to plans for a new accessory building next to the main structure that will allow more and faster bottling.
Also on tap for 2011: the addition of "green" building features.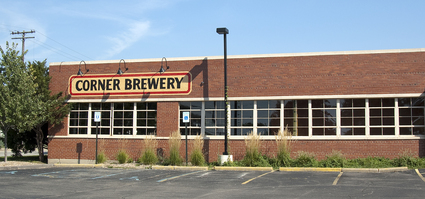 Courtesy of Corner Brewery
Ypsilanti's
Planning Commission
will hear a request March 16 for a special use permit and site plan review for the property at
720 Norris,
just north of
Depot Town
.
The proposal seeks permission to add a 2,000-square-foot building that will be used for storage, freeing up space for the brewery to add bottling capacity.
Owners Matt and Rene Greff shaped the plans in late 2010 as they set multiple goals for their businesses, which also include Arbor Brewing Co. in Ann Arbor.
The couple — traveling this week in India as they set up their first international franchise — said expanding Corner Brewery will allow increased production.
"The addition of that extra storage will free up space in the existing brewery for our new bottling line, which will increase our bottling speed from 12 bottles (per) minute to 55 bottles," Rene Greff wrote in an e-mail.
The new building also will allow the brewers to buy supplies by the truckload, "which will help considerably with our cost structure," Greff said.
The effort aligns with a green "retrofit," calling for energy-saving features that will be added to the structures on the property, said Teresa Gillotti, Ypsilanti's planning director.
The new accessory building will feature geothermal heating and cooling, and photovoltaic and solar-thermal panels will also be added, Greff said.
All of the windows will be replaced, too, she said.
They'll be "historically correct windows to maintain the 1950s industrial look that is a signature element of the building," Greff said.
The new building will be located at the east end of the existing building, "tucked in behind the outdoor cafe," Gillotti said, if plans are approved. The Historic District Commission also had to rule on the new building, new windows and solar panel installation - and it gave its approval on Wednesday.
City officials appear supportive of the project so far, Gillotti said. She expects to finish her department's review of the plan by the end of the week, she added.
While the Greffs have been out of the country during this stage of the planning process, they said officials and their staff have been tackling loose ends.
"We're really excited about our project and feel confident that we will be able to work with (the city) to figure out how to make it all happen," Greff said.
If plans are approved by the city, construction could start when the couple returns in April, she added. Original estimates for the project cost were about $300,000.
Paula Gardner is Business News Director of AnnArbor.com. Contact her at 734-623-2586 or by email. Sign up for the weekly Business Review newsletter, distributed every Thursday, here.