Posted on
Thu, Apr 21, 2011 : 9:16 p.m.
Costco takes big step toward final approval for store in Pittsfield Township
By Janet Miller
Costco's plans to build its first store in Washtenaw County took a giant step forward Thursday night when the Pittsfield Township Planning Commission unanimously approved a rezoning request and preliminary site plan for the proposed development.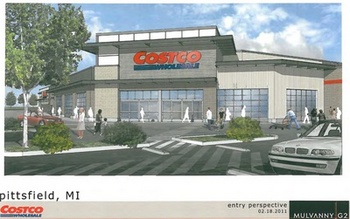 The action, which carries several conditions, allows the project to go before the township's Board of Trustees for consideration.
It's been almost a year since Costco announced intentions to build a 148,000-square-foot store along with a gas station and 720 parking spaces near the northwest corner of South State and Ellsworth.

With Thursday's action, construction could begin by late summer or early fall and the store could be up and running by summer 2012.

The 17 acres for the proposed development is now occupied by an industrial park.
"This project has had tremendous public support," said Paul Montagno, senior planner for Pittsfield Township. "It's consistent with the concepts in the master plan, and we feel it's an appropriate infill project. It's not a new development site. It's redevelopment."

Jack Frank, Costco vice president for real estate development who attended the meeting, said the store is expected to have between 200 and 250 employees, half of them full-time with the other half part-time. He would not comment on the project cost. The township won't know the project cost until Costco submits its building permit application, Montagno said.
Final approval hinges on several conditions:
--The township Planning Commission and ultimately the township board must approve a revised master plan that would allow for mixed-use development, including a large commercial project such as Costco along with residential and office use for the area. That approval is underway and is expected to be wrapped up by July or August, Montagno said. Costco could begin construction soon after, he said.
--Costco's design plans must include a small pedestrian park or plaza near the corner of Ellsworth and Airport Boulevard. This aligns with the concept of making the development more pedestrian friendly.
--The landscaping along the Ellsworth side of the project must be more clustered to give it a better design, Montagno said.
Costco will pick up the tab for intersection improvements at Airport and Ellsworth, Airport and State and Lohr and Ellsworth, work that will be completed by the time the store opens, Montagno said.

There will eventually be road improvements at the State and Ellsworth intersection — with the possible addition of a traffic rotary or roundabout, though that wouldn't occur until after the store opens and possibly not until 2018. Costco has committed $500,000 to that project.
Costco is the largest membership warehouse chain in the United States with headquarters in Issaquah, Wash. The closest Costco is in Brighton, with two others in Livonia and one in Commerce Township.
Here's what's next:
--Pittsfield Township board must hold two meetings regarding the development before approval.
--Planning Commission must hold a public hearing for its revised master plan, expected in June, and then recommend the plan before it heads to the township board for approval. That is expected to be wrapped up by late July or August.

--Costco must submit a final site plan to the Planning Commission, which must ultimately by approved by the township board.

Janet Miller is a freelance reporter for AnnArbor.com.