Posted on
Wed, Jul 13, 2011 : 3:10 p.m.
Borders creditors, filing objection, say proposed sale could lead to liquidation
By Nathan Bomey
The top creditors for Ann Arbor-based Borders Group Inc. today filed an objection to the bookstore chain's proposed bankruptcy sale to a Phoenix-based private equity firm, arguing that the bidder has not promised to continue operating the company.
A committee of unsecured creditors — namely, publishers that ship books to Borders — argued that the proposed sale to Najafi Companies is "unacceptable" in part because Najafi, whose Direct Brands unit owns the Book of the Month Club, could turn around and liquidate Borders' assets after completing the acquisition.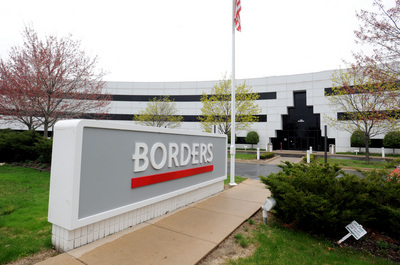 Melanie Maxwell | AnnArbor.com
The creditors said Borders was displaying "unfettered discretion" in proposing that Najafi be established as the leading, protected bidder for the company's assets.
Borders' top seven unsecured creditors, including publishers such as Simon & Schuster and Random House, are owed more than $193 million, according to bankruptcy documents filed in February.
Borders has proposed a bankruptcy auction for the company's assets to take place Tuesday in New York. Najafi has tentatively agreed to pay $215.1 million in cash and assume about $220 million of liabilities. But Najafi has not said what strategy it would pursue after the acquisition and has not said how many of Borders' 399 remaining stores it would continue operating.
The creditors, in a court filing today, suggested that the proposed sale would give Najafi the option of buying Borders and then subsequently deciding to "liquidate the inventory of the entire chain of retail locations and retain valuable intellectual property" — which could include, for example, Borders' website.
The creditors said they would prefer Borders to be sold as an operating company but, if that's not possible, then the company's assets should be sold off by a team of liquidators that have already agreed to serve as a backup bidder for Borders if the Najafi deal collapses.
"To be clear," the creditors said, they want Najafi to bid for the company — but under different terms that would not provide a $6.45 million "breakup fee" to Najafi if another company ends up winning the auction.
A hearing is scheduled for Thursday in the U.S. Bankruptcy Court's Southern District of New York, where a judge will decide whether to approve procedures governing the bankruptcy auction. If the auction procedures are approved, bids would be due by Sunday — and the auction would occur Tuesday if a competitor to Najafi emerges.
Borders has argued that the auction must take place quickly because its bankruptcy financing agreement with General Electric Capital dictates that, if a sale occurs, it must be finalized by late July. Otherwise, the chain would be liquidated.
In response to the creditors' objection, Borders issued a statement today: "We continue to work hard to satisfy the matters raised by the (creditors committee) in its filing, and hope to see a successful transaction through the auction process that delivers value to the creditors."
The creditors today also argued that Borders should be forced to consider auctioning off individual assets — such as intellectual property and leases — instead of simply selling off the entire company or authorizing a liquidation.
A liquidation of Borders would affect the company's 11,000 remaining employees, including nearly 400 who work at the headquarters on Ann Arbor's south side. Borders filed for Chapter 11 bankruptcy in February and has closed some 230 superstores since then.
Contact AnnArbor.com's Nathan Bomey at (734) 623-2587 or nathanbomey@annarbor.com. You can also follow him on Twitter or subscribe to AnnArbor.com's newsletters.