Posted on
Thu, Jun 30, 2011 : 9:45 p.m.
Book of the Month Club owner bids to acquire Borders, but liquidation still possible
By Nathan Bomey
A Phoenix-based private equity firm that owns the national Book of the Month Club submitted an official bid to acquire Ann Arbor-based bookstore chain Borders Group Inc., officials said tonight in a statement.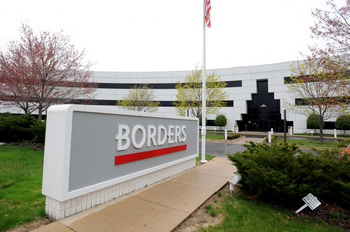 Melanie Maxwell | AnnArbor.com
Borders was due
, by Friday, to select a so-called "stalking horse bidder" for its bankruptcy auction, which is set to take place in three weeks.
Direct Brands — operator of the Book of the Month Club, Doubleday Book Clubs and Columbia House — agreed to a tentative deal to acquire Borders by paying $215.1 million in cash and assuming about $220 million of liabilities. Phoenix-based investment firm Najafi Companies bought Direct Brands in 2008.
The agreement effectively establishes Najafi's offer as the starting bid in the bankruptcy auction for Borders. During the auction, other companies — including liquidators — could top the offer.
In fact, Borders is simultaneously filing a motion that would require the liquidation of all of its assets if a sale is not completed during the auction. In that situation, liquidators Hilco and Gordon Brothers would sell off the rest of Borders' assets, and the proceeds would be distributed to Borders' creditors.
A liquidation of Borders would lead to the loss of about 11,000 jobs nationwide, including close to 400 at the company's corporate headquarters on Ann Arbor's south side.
Borders described the deal as the best possible outcome in light of the company's market challenges.
"We are pleased to take another important step forward as we position Borders for a vibrant future and sustainable earnings growth," said Mike Edwards, president of Borders Group, in a statement. "We have made significant progress in reducing our cost structure, refocusing our merchandise offering, and building our eBook business. We look forward to working with a supportive partner as we continue to execute on our turnaround strategy."
Los Angeles-based Gores Group has also been reported as a possible buyer of Borders, which filed for Chapter 11 bankruptcy in February.
It was not immediately clear how many Borders stores Najafi would choose to keep open. Borders said in a statement that, as part of the agreement, "locations that are ultimately not included in the sale" will be closed and their products liquidated.
A company spokeswoman declined to address the announcement beyond the press release.
Borders has already closed about 230 superstores since its bankruptcy, including the location at Arborland Center in Ann Arbor. The company's flagship store on Liberty Street in downtown Ann Arbor and its store on Lohr Road in Pittsfield Township remain open for now.
It was not clear how the deal would affect the company's corporate headquarters in Ann Arbor, where close to 400 workers are still employed. Borders would be operated as a wholly owned subsidiary of Direct Brands, the company said.
The company has been considering moving its headquarters out of Ann Arbor to save money on rental costs.
Borders has abandoned previous hopes of reorganizing and reemerging from bankruptcy as its own, independent company.
Instead, the company said in a recent court filing, if it isn't sold it will be forced "to halt operations and liquidate on an expedited basis, with the attendant loss of value to the estates, recoveries to unsecured creditors and thousands of jobs."
Contact AnnArbor.com's Nathan Bomey at (734) 623-2587 or nathanbomey@annarbor.com. You can also follow him on Twitter or subscribe to AnnArbor.com's newsletters.