Posted on
Fri, Jun 11, 2010 : 9:17 a.m.
David Canter returns to helm of ex-Pfizer site for University of Michigan
By Nathan Bomey
David Canter, who led the 30-building, 174-acre pharmaceutical complex on Ann Arbor's north side until Pfizer shuttered it in 2008, will lead the site once again - this time under the auspices of the University of Michigan.
The university said today Canter has been selected to serve as executive director of the site, which was renamed North Campus Research Complex after U-M acquired it for $108 million in June 2009.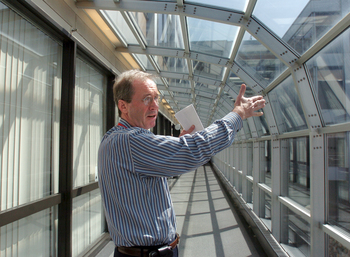 File photo | AnnArbor.com
Canter was among the 2,100 workers displaced when Pfizer said on Jan. 22, 2007, that it would abandon its facilities by the end of 2008. He was given the chance to transfer to another Pfizer site somewhere else, but he chose to remain in Ann Arbor, saying he was committed to participating in the region's economic future. The move earned Canter the appreciation of the business community and praise from his colleagues.

The U-M Board of Regents will give the hiring its official stamp of approval.
Canter, speaking to the media this afternoon, played down the emotional aspects of his return to the site he once led. He said he hasn't visited the ex-Pfizer facilities since handing in his employee badge in November 2008.

"I'm sure I'll have some interesting moments where I walk around and see what's different," he said. "But I've moved on. This is just a different world."
U-M said in a news release that Canter would be charged with configuring the site to "make the most of the site's 30 buildings and dozens of acres of open land."
Canter repeated sentiment that the acquisition of the site was a "wonderfully bold move," saying it gives the university a chance to explore new research ideas and collaborate with industry partners.
"It's such an interesting job because it's creating something different and something new," he said.
U-M plans to hire 2,000 to 3,000 workers over the next 10 years to staff the 2 million-square-foot site, which it hopes to use as a catalyst for revolutionizing its $1 billion annual research operation.

The university wants to use the site to pursue multidisciplinary research, strike unique partnerships with industry and perhaps even provide incubator space for its own startup companies.

Among Canter's responsibilities is serving as a liaison to the private sector, U-M said. He reports to U-M Executive Vice President for Medical Affairs and U-M Health System CEO Ora Pescovitz, who has been overseeing the site's transition.
Canter's return comes as U-M has slowly started moving employees into the site, which now has about 300 workers.

Soon after U-M announced in December 2008 that it had struck a tentative deal to buy the site, speculation ensued that the university might pursue Canter to lead the complex. That month Canter had been hired as director of the William Davidson Institute's Healthcare Research Initiative, a nonprofit founded at U-M in 1992.

Canter said in February 2009 that he hadn't ruled out returning to lead the site.

"Obviously I will help them if they ask for it," Canter said. "I will definitely do whatever I can to make it successful."
Today, though, he said the opportunity to lead the site didn't arise until Pescovitz mentioned it to him last fall.

Canter came to Ann Arbor in 1986 to become vice president of Warner Lambert/Parke-Davis, which operated the pharmaceutical campus until Pfizer acquired the company in 2000.
From 2000 to 2008, Canter was a senior vice president in Pfizer Global Research and Development and director of the company's Michigan labs.
"I can think of no one better suited to guide the development of NCRC and transform our university's approach to multidisciplinary research and partnership with the private sector," Pescovitz said in a statement. "His expertise extends far beyond familiarity with the physical property, into understanding what it takes to achieve innovation, and to translate discoveries to products that benefit humankind."
In the 2009 interview, Canter said the university likely would have to move a significant number of workers into the facility all at once due to the interconnected nature of the utilities and basic infrastructure.

"The university has got to face that challenge," he said. "When it starts to move people in, it needs to move enough people in that it is going to be effective at setting up all the usual infrastructure systems that the university is going to need for it to function effectively."

Canter also said at the time the site was well positioned to allow for scientists to pursue new research other than life sciences. He said the labs were well suited to allow researchers to pursue new lithium-ion batteries for vehicles, for example.

"That's very realistic," he said then. "Many of the labs could be easily adapted to engineering, physics, and uses beyond pharmaceuticals."

One of the most valuable parts of the site to the university is the developable 29-acre swath of empty land on Plymouth Road.

Canter said today that he still views the empty land "as a future asset, but I don't see it as my immediate concern."

In the months after Pfizer's January 2007 announcement that it would depart Ann Arbor, Canter said he experienced a wide range of emotions.

"I always thought that I could help people understand that it wasn't the end of the world," Canter said in November 2007 after being named Ann Arbor Business Review's Executive of the Year. "I mean, I was angry at the time, and I've been through pretty much every emotion. And it was a decision that really hurt. ... I also recognize that there was no point in being angry at Pfizer. It was a pointless emotion."
Instead, he opted to focus on his future in Ann Arbor.

"I love this place," he said. "This is my home."
Contact AnnArbor.com's Nathan Bomey at (734) 623-2587 or nathanbomey@annarbor.com. You can also follow him on Twitter or subscribe to AnnArbor.com's newsletters.