Posted on
Wed, Apr 20, 2011 : 5:58 a.m.
David's Books to close after 32 years in Ann Arbor
By Angela Smith
(This story has been updated.)
In the wake of Borders' bankruptcy filing, many bibliophiles have been discussing the doom of the physical bookstore. And it's not just the larger chain store. Independent Stores have also had a tough ride.

Nationwide, booksellers are facing competition from big online sellers like Amazon.com, e-books and big box stores.
Earlier this month, AnnArbor.com reported the closing of Crossroads Christian Bookstore, the owner announcing that he would move sales to online. Shaman Drum is still missed, though its closing was well over a year ago.
Now, another Ann Arbor local independent shop will be gone by the end of May.
David's Books, at 516 E. William St., has been in Ann Arbor since 1979. The store will be closing its doors as the store lease comes to an end.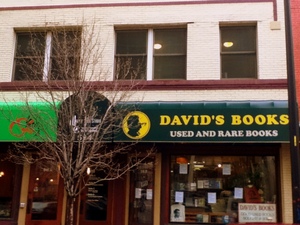 Angela Smith | contributor
Owner Ed Koster has already begun selling off the store's used books at half price. He said the store has a wide range of books in all interest areas with plenty of literature and rare finds.
When the store closes, Koster is not sure what he will do next.

"It's just too much trouble to move and find a new location," he says. He hopes to keep some books, and continue to remain active online for some time, selling used and rare books via the store's website.

David's Books' recent years have been marked by troubles. In August 2008, Koster was accused of orchestrating a scheme in which he hired "drug addicts to steal textbooks from competitors and later selling the books on the Internet," the Ann Arbor News reported at the time.

He pleaded no contest to receiving and concealing stolen property and to a count of conspiracy involving less than $20,000. He reached a sentencing agreement that guaranteed three years of probation and no jail time
David's Books has been at its current location since 2003, when it moved from its space on State Street above Potbelly's Sandwiches. Rumors are circulating that Asian Legends could expand into the neighboring space, but the restaurant's owners were not available for comment..

Angie Smith is a freelance contributor to AnnArbor.com. You can reach her via email at angieannarbor@gmail.com.