Posted on
Fri, Apr 1, 2011 : 5:56 a.m.
Deal finalized for Dick's Sporting Goods to open Ann Arbor-area store
By Paula Gardner
The deal is done to move Dick's Sporting Goods into the former Linens 'n Things store on Lohr Road in Pittsfield Township.
The national sporting goods retailer — which spent years scouting its first store location in Washtenaw County and zeroed in on this location early this year — now has a chance to open by Christmas, said Tom Goldberg.
"Hopefully construction can start promptly in the next few months," said Goldberg, an owner of the Waters Place Shopping Center.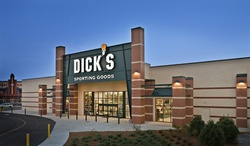 From PREIT
The completion of the leasing comes as the chain seeks to add 7,000 square feet to the 35,000-square-foot big-box retail location, which has been empty since the home goods chain closed in 2008.
The chain sought permission from Pittsfield Township in March to modify the space, including the exterior entrance, and making an addition to the rear of the store.
Those changes were sent to the township's planning staff to make the administrative changes to the site plans, since a planning commission vote wasn't necessary.
"We have a couple of issues to deal with on the engineering end, but we're probably not very long from having final administrative approval and being able to issue a final site plan certificate," said Paul Montago, township planner.
Building permits have been submitted, he added, and they'll be issued after the changes are finalized.
Dick's previously had a deal to build on Briarwood Circle, then in 2007 sought to build at 3060 Lohr, where a self-storage facility is located.
Finalizing the deal in the Ann Arbor market "reconfirms the vitality of the trade area," Goldberg said. "They're very selective in terms of their locations."
It's also good for the community because it fills a large existing retail vacancy, Montagno said.
"That they're able to work with property owners there to get a high-quality business in that area is going to be good for the community," he said.
Paula Gardner is Business News Director of AnnArbor.com. Contact her at 734-623-2586 or by email. Sign up for the weekly Business Review newsletter, distributed every Thursday, here.