Posted on
Tue, Feb 8, 2011 : 1:43 p.m.
Dick's Sporting Goods close to deal to open store in ex-Linens N Things in Pittsfield Township
By Paula Gardner
Can the third time be the charm for Dick's Sporting Goods and its efforts to locate a store in the Ann Arbor area?
The national chain is entering final negotiations for the former Linens N Things store on Lohr Road, landlord Tom Goldberg said.
"Hopefully this store will be open by the end of the year," Goldberg said.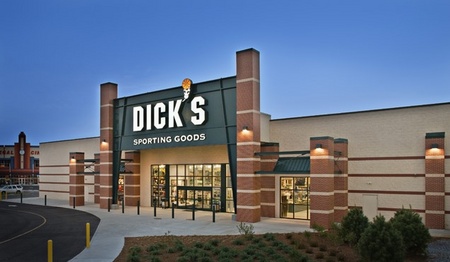 From PREIT
To get to that point, the lease for the 35,000-square-foot store in Waters Place needs to be finalized. Goldberg said much of it has been resolved, but his staff is still working out administrative details.
Dick's has shopped the Ann Arbor trade area for a store location for several years and it's been close to building two stores in the past:
• The first was on Briarwood Circle on property owned by Briarwood Mall, where the company planned to build a 47,074 square foot store in early 2006.
• The second was on Lohr Road, where a self-storage business now sits. The chain filed site plans with Pittsfield Township in 2007 for this store, then received approvals in 2009.
Township officials said last spring that store officials had contacted them about moving that construction forward.
However, now the chain has targeted an existing big-box vacancy just to the south across Lohr, next to Borders and near both Kohl's and Best Buy.
Choosing to move into an existing building instead of pursuing construction makes fiscal sense, Goldberg said.
"The fastest way to get to the finish line is to take existing space," he said.
The space is among the largest retail vacancies in Washtenaw County, yet it's not quite large enough for the typical Dick's store.
Goldberg said the chain — as part of the deal — will seek to expand the building's footprint by adding additional space at the rear of the store.
Dick's, based in Corapolis, Penn., employs about 10,200 at its 400-plus stores in 40 states, according to filings.
The company — worth $4.43 billion, based on its stock price of about $38 per share —posted $4.69 billion in annual revenue.
The store would mark the third recent full-line sporting goods store change in this market: MC Sports recently moved from Oak Valley Centre, also owned by Goldberg, to Briarwood Mall. Advantage Sports, an independent retailer, opened on West Stadium.
Meanwhile, while the deal to bring Dick's to the Ann Arbor area "isn't a done deal," Goldberg said, "everyone is acting in a positive way to get it done."
Paula Gardner is Business News Director of AnnArbor.com. Contact her at 734-623-2586 or by email. Sign up for the weekly Business Review newsletter, distributed every Thursday, here.