Posted on
Mon, Mar 7, 2011 : 5:55 a.m.
Delux Tents and Events triples its inventory after buying stock from Ann Arbor's closed Fox Tent & Awning
By Laura Blodgett
Delux Tents and Events in Belleville has recently purchased all of the now defunct Fox Tent & Awning Company's inventory, including tents, flags, boat covers, bags and manufacturing equipment.
"They had a big canvas and vinyl business — mostly custom jobs—and we will continue to offer that service," said Todd Irwin, owner of Delux Tents and Events. "They also did a lot of repair work and we will continue to do that as well."
Fox, once located at 617 S. Ashley in Ann Arbor, closed at the end of December.
Irwin said the company also picked up a few of Fox's key employees and hopes "the transition between our two companies should be seamless."
The company was founded by Irwin's father in 1966 as a tool and hospitality rental company, and Irwin bought the hospitality side in 2000 specializing in tents, tables, chairs, dishware, table linens and stage equipment rental. His father still runs the tool rental business Delux Rental in Ypsilanti.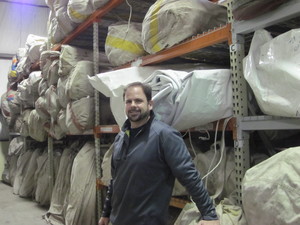 Courtesy of Joan Peck
This recent purchase brings the tent company's current inventory to several hundred thousand square feet of tent material.
"I can't imagine anyone in Michigan has more square feet of product than we do now," said Irwin, who adds that the company can now easily make a 30,000-square-foot tent, if necessary.
Tripling the company's tent inventory enables it to do more events in any given weekend, and expand into different markets such as mid-Michigan.
"Before, if you looked at one of our busier weekends in June, three or four big events would cap us out in terms of product availability but now we can do twice that," Irwin said.
Fox Tent also sold Delux its customer list and put a note on its door, website and phone forwarding customers and inquiries to Delux.
"Dave and Becky Fox are wonderful people and I have always admired the work they do in our community," Irwin said. "It pleases me that Delux will be able to continue to serve their clients and keep the work in our community. I hope Dave and Becky enjoy a long and fulfilling retirement."
Laura Blodgett is a freelance reporter for AnnArbor.com.