Posted on
Sun, Aug 19, 2012 : 5:57 a.m.
Developer renovates historic South State Street building; looks to build apartments
By Lizzy Alfs
Editor's note: The name of Scott Bowers' architecture firm has been corrected.
The historic Ann Arbor building that houses Sava's Restaurant on South State Street recently underwent a major transformation.
Building owner Howard Frehsee renovated the 4,120-square-foot upper level of 216 S. State St. and leased the space to the University of Michigan for its Graham Environmental Sustainability Institute.
But Frehsee, also the developer of State Street's Corner House Lofts, isn't prepared to stop there: He hopes to demolish a decaying building on his property behind Sava's Restaurant to build apartments.
"We have plans down the road to hopefully — if we get the cooperation we need from the city and community — get rid of this monstrosity and tear it all down. ... It would be rebuilt by me for apartments."
The building, which is attached to the rear of Sava's and extends next to the Michigan Theater building on East Liberty Street, was once J.T. Abernathy's pottery studio. It's mostly hidden from view on the street, but the roof is now collapsed, the windows are broken and ivy is growing on the walls.
"It's such a wasted use," Frehsee said. "I can't bring it back; there's nothing worth saving."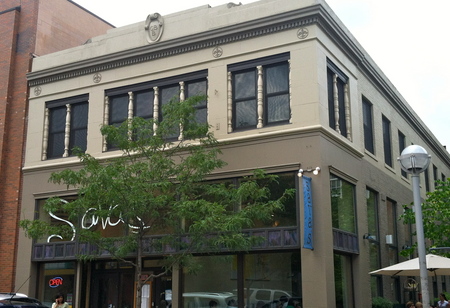 Lizzy Alfs | AnnArbor.com
Frehsee said plans are being drawn for an apartment building and he hopes to submit them to the city of Ann Arbor by the end of the year.
"I want to do something different than the other new student housing apartments," he said. "They are still going to be really nice, but you have to remember who your market is."
Because the property, located in the city's D1 zoning district, also is part of the State Street Historic District, Frehsee would need approval from the Historic District Commission before moving forward.
Frehsee's renovations on the Sava's Restaurant building made the upper level space, which was medical offices for decades, marketable again.
He reconfigured the space and installed offices for U-M, replaced rotting windows, installed a wood floor, put in new HVAC equipment, replaced broken limestone on the building's exterior and repainted.
"Once I stabilized downstairs with a good tenant, then I decided to put my focus on finishing this building up and making the investment," he said. "You had to make all these changes in order to even get someone remotely interested in it."
Frehsee, who purchased the property in 2004 for $950,000, declined to disclose the cost of the renovations.
John DeGrandis of DeGrandis Contracting LLC and Scott Bowers of Bowers + Associates worked on the project. Colliers International's Ann Arbor office listed the upper level space for lease and brokered the deal with U-M. The monthly rate for the lease is $7,380.
Since Frehsee built the eight-story, 56-unit Corner House Lofts across the street in 2004, the South State Street landscape has undergone a series of changes. Frehsee said what used to be considered a "dead" corner is now bustling with activity.
U-M's North Quad dormitory was constructed on the corner of East Washington and South State in 2010.
Other nearby changes include the sale of the former Ritz Camera building to Metro Detroit ophthalmologist Dr. Reza Rahmani; Cosi closed; 7-Eleven, Five Guys Burgers and Fries, CVS and Pitaya opened.
"It's become a great spot," Frehsee said. "Good stuff breeds good stuff."
The scope of student apartments near campus also has changed significantly, with the construction of several high-rises in the past few years. Among them are: Zaragon Place, Zaragon West, Sterling 411 Lofts and Landmark. There are several more apartment projects in the city's pipeline.
But Frehsee said Corner House, which isn't as high-end as the new developments, is finding success at a lower price point.
Rent at the complex ranges from about $700 to $1,000 per bedroom, according to a listing.
"I think what Corner House has going for it is that we didn't overbuild the units," he said. "We built it for students and we wanted to build it as inexpensively as we could for the market that we served."
Frehsee added: "I think that Corner House should do well because it's going to be at the lower end of the spectrum of these types of rentals."
Lizzy Alfs is a business reporter for AnnArbor.com. Reach her at 734-623-2584 or email her at lizzyalfs@annarbor.com. Follow her on Twitter at http://twitter.com/lizzyalfs.